Home The Americas US West


Celebrate all things Japanese at Obon Festival
By JIM TRAGESER, North County Times, July 22, 2006
Vista, CA (USA) -- Music, cuisine and the arts are said to define a culture. The Obon Festival at the Vista Buddhist Temple and Japanese-American Cultural Center ought to serve as a pretty complete introduction to Japanese culture, then, with two days of free dancing and music and food and craft booths offering authentic tastes and sights.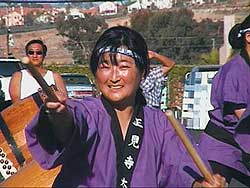 << Terri Omori plays taiko drums at the Obon Festival last year. Taiko drumming demonstrations will be held at this year's event set for Saturday and July 30.
Photo courtesy of Vista Buddhist Temple
Starting Saturday and continuing on July 30, the Obon Festival runs from noon to 8 both days. Located just a block east of Tri-City Medical Center, the temple has plenty of free parking.
The food booths will be open until 6 p.m. both days (or until the food runs out, whichever comes first); each day will feature a Buddhism discussion at 3:30 p.m., a taiko drumming demonstration at 5 p.m., and bon odori folk dancing at 6:30 p.m., in which everyone is invited to participate.
Besides food booths serving traditional Japanese recipes featuring chicken, beef, tuna, sushi and noodles, there will be booths selling everything from fresh produce used in Japanese cooking to cut flowers, live plants and arts and crafts. There will also be raffles, with a first prize of $1,000; raffle tickets are $1 each.
The Vista Buddhist Temple and Japanese-American Cultural Center is located at 150 Cedar Road in Vista. Call (760) 941-8800 or visit www.vbtemple.org.