Home The Americas US West


Monks to kick of Roseville visit Wednesday with sand mandala
By Nathan Donato-Weinstein, Roseville Press Tribune, February 12, 2008
Roseville, CA (USA) -- Roseville is readying for a Tibetan invasion.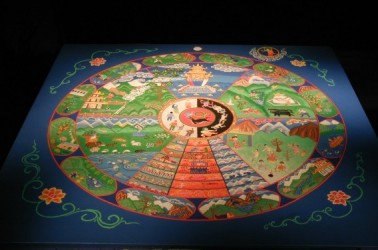 Monks from the Gaden Shartse Monastery, a Tibetan Buddhist monastery exiled to southern India, will be in Roseville for as part of their Northern California Tour this week.
The Roseville leg begins Wednesday and lasts through Monday, and is sponsored by The Center, a Roseville-based holistic wellness hub. The monks are scheduled to share cultural heritage, offer sacred arts and dance performances and give lectures and teachings.
It all starts at 10 a.m. Wednesday at Royer Park with opening ceremonies that will feature singing, music, chanting and a sand mandala, an ancient Tibetan Buddhist traditional art form that uses sand to "paint" intricate and beautiful designs. The mandala is then dismantled later according to ritual.
Suggested donations are advised for attendees to all events. All money raised goes to support the activities of the monks and their home monastery.
A full listing of the monks' planned activities and more information is available by visiting www.thecenterofroseville.com.