Home The Americas US West


UCLA Scholar to Head New Korean Buddhist Research Institute
By Elizabeth Kivowitz Boatright-Simon, UCLA Today, Aug 28, 2009
Berkeley, CA (USA) -- Robert Buswell, distinguished professor of Buddhist Studies in the department of Asian Languages and Cultures and director of the Center for Buddhist Studies at UCLA, has been appointed founding director of a new Buddhist Research Institute at Dongguk University in Seoul, South Korea.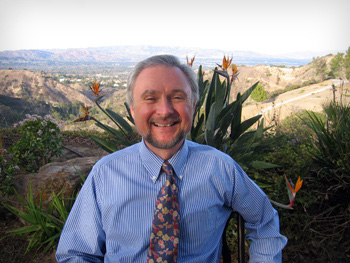 << Robert Buswell, who once dropped out of college to become a monk in Asia, directs the UCLA Center for Buddhist Studies.
He will hold the title for the next year, during which he will work to introduce Korean Buddhist history, culture and practice to Buddhist scholars and to citizens worldwide. Buswell became fascinated with Buddhism while he was in high school.
He became interested in Buddhist doctrine and meditation and started studying Chinese and Sanskrit. He dropped out of college in 1972 and spent one year each in Thailand and Hong Kong as a Buddhist monk. While he was in Thailand, two Korean monks introduced him to Korean Buddhism and persuaded him to visit a monastery in Korea.
Buswell then moved to Songgwangsa, or Piney Expanse Monastery, in Korea's South Cholla province, in 1974 at the age of 21, where he practiced Zen meditation for five years as a Buddhist monk. After a total of seven years in Asia, he returned to UC Berkeley and completed his BA, MA, and finally PhD in Buddhist Studies in 1985.
Buswell will hold a dual faculty position at UCLA and Dongguk University for the next year.