Home The Americas Canada


Buddhist temple clears minds in Port Credit
Mississauga News, Aug 24, 2013
MISSISSAUGA, Ontario (Canada) -- Those who may be a little bogged down by the relentless hurry and worry of modern life visited Richard's Memorial Park today to transcend the noise.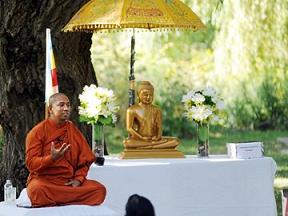 << Meditation in the Park
Staff photo by Fred Loek
The West-end Buddhist Temple hosted their annual outdoor Free Meditation on the Park service Saturday at Richard's Memorial Park . The meditation was led by monk Bhante Saranapala.
Hosted by the West-end Buddhist Temple, the Free Mediation in the Park event saw dozens of participants sit among the tranquil green setting of the Port Credit park for some relaxation and peace of mind.
Sitting in the lotus position (cross-legged) on a white cushion, with a golden statute of the Buddha gleaming behind him, monk Bhante Saranapala led the meditative sessions that were centered around freeing individuals from emotional pain.
The West-end Buddhist Temple is located on 3133 Cawthra Rd.