Home The Americas Canada


13,000 expected for Dalai Lama conference in Montreal
By Max Harrold, The GazetteOctober 3, 2009
MONTREAL, Canada -- About 13,000 people are expected to attend a conference and performances of Tibetan and Quebec music and dance at the Bell Centre Saturday featuring the Dalai Lama, in his third visit to Montreal.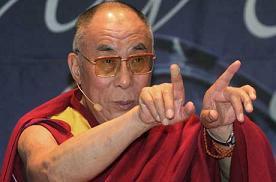 << The Dalai Lama will hold a conference at the Bell Centre in Montreal today.
Photograph by: Leah Hennel, CanWest News Service
The Buddhist spiritual leader, 74, is to give a talk titled Educating the Heart: The Power of Compassion.
Prior to the public meeting at the Bell Centre, the Dalai Lama will speak to a by-invitation-only crowd of teachers and university students hosted by McGill University.
Faculty of Education students selected from Quebec's English and French universities are expected to attend.
The Dalai Lama, whose name derives from of a Mongol phrase meaning "ocean of wisdom," is considered by Tibetan Buddhists to be a manifestation of Avalokiteshvara, the Bodhisattva of compassion, and he is the protective patron of Tibet.
Proceeds from ticket sales to the public meeting will go to support youth employment opportunities in the Tibetan refugee Community in India.
For more information, visit dalailamamontreal2009.org.