Home The Americas Canada


Monk takes message of peace to G8
By DON PEAT, Toronto Sun, June 24, 2010
HUNTSVILLE, Canada -- In the cottage country land of barely any protesters, the ones the media spot are king.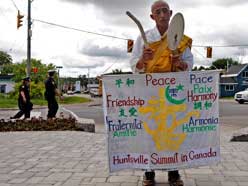 << Sekiguchi Toyoshige walked to Huntsville from Toronto, calling for friendship, peace and harmony. (DAVE ABEL/Toronto Sun)
With all the attention he is getting, Sekiguchi Toyoshige is probably glad he made the 12-day trip by foot to Huntsville from Toronto.
The Japanese Buddhist monk, carrying a banner calling for friendship, peace and harmony between all the world's religions, stands out as he walks in his robes on the streets of Huntsville.
"The message is I'm here for the peace and harmony of religions," he told the Sun Thursday after saying a prayer in front of flagpoles displaying the flags from the countries of the G8. "To abolish the nuclear weapons in the world."
He's one of the few protesters to hit the streets of the town closest to the G8 summit. The designated speaking area for protesters, located in a field just outside of town, is still empty except for police and some porta-potties.
Toyoshige said he'll be heading back to Toronto after the summit but he won't be walking.
He'll do the journey south in a car, he said.