Home The Americas Canada


Aldergrove monastery hosts world's largest jade Buddha
By John Bermingham, The Province, August 6, 2010
Aldergrove, BC (Canada) -- More than 100,000 people are expected to converge Sunday on an Aldergrove Buddhist monastery for a glimpse of the world's largest jade Buddha statue.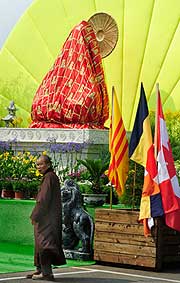 << As part of its ongoing world tour, the Jade Buddha for Universal Peace, will be unveiled in the Aldergrove monastery's courtyard Sunday and will then be on display until August 15.
Photograph by: Nick Procaylo, PNG
The 2.7-metre-high figure, which weighs more than four tonnes and is valued at $5 million, was carved from B.C. jade.
It will be unveiled to the public at a ceremony attended by local politicians and dignitaries.
The statue, which is on a world tour, will be open for viewing until Aug. 15.
Hoa Nghiem Monastery's events manager Tony Vuu said the message of the Jade Buddha is universal peace.
"We want to bring people together, no matter what race," Vuu told The Province Friday.
"We have to help each other. We want to bring everyone close to each other."
The Hoa Nghiem Monastery, at 2623 272 St., will be open to the public from 9 a.m. until 7 p.m.