Home Healing & Spirituality


Incense smoke hazardous to health: Thai officials
AP, March 12, 2011
BANGKOK, Thailand -- The clouds of aromatic smoke that waft through Thailand's Buddhist temples are potentially hazardous to your health, according to the country's Public Health Ministry, which has issued new guidelines for incense burning.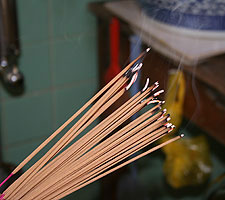 The smoke emitted from the incense, or joss sticks, commonly used at temples contains unsafe levels of benzene, butadiene and benzopyrene, which could cause leukemia and lung, skin and bladder cancers, Thailand's Health Minister Jurin Laksanawisit said in a statement Thursday.
The ministry is recommending that temples avoid lighting the incense in poorly ventilated places, use short joss sticks rather than long ones and quickly discard ashes from burned incense, the statement said.
Temple staff should avoid prolonged exposure to the smoke, wash their hands and faces after handling joss sticks and have annual medical checkups, the ministry said. The findings were based on a study conducted by Thailand's Chulabhorn Research Institute based on samples from temples in three provinces.
The samples showed the incense smoke contained benzene at levels 53 times higher than recommended safety standards, 33 times more butadiene and 10 times the amount of safe benzopyrene, the statement said.