Home World


Dalai Lama to visit Israel in February
PTI, Jan 23, 2006
Jerusalem, Israel -- The Dalai Lama will visit Israel next month to participate in the celebrations marking the birth centenary of Israel's first Prime Minister David Ben-Gurion, the organisers said.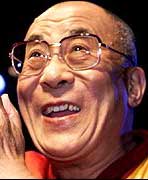 During his five-day visit, being coordinated by Yativ, an organisation of the Israeli Friends of the Tibetan People, the spiritual leader is expected to visit Ben-Gurion's grave, deliver lectures in Tel Aviv and meet Israeli government officials.
"We are a group of people who have closely seen life of Tibetans living in exile in India and are working towards enhancing public awareness of their plight here" Alona Vardi, Chairperson of Yativ told PTI.
The public engagements of the Tibetan leader "is more spiritual than political", the organisers emphasised.
Following his arrival on February 15, Dalai Lama is to lecture on "Collective Responsibility" on February 17 and lead a day of workshops on "The Practice of Consciousness" the following day.
The exiled Tibetan spiritual leader's previous visit in November 1999 had evoked strong protests from the Chinese government, which at that time was negotiating a weapons deal with Israel.
Dalai Lama's forthcoming visit is said to enjoy the support of former president of the Ben-Gurion University Avishay Braverman who recently took third place in the Labour Party primaries.
Many Israelis visit Dharamsala in Himachal Pradesh during their trip to India and it has led to the creation of a number of Buddhist meditation groups in Israel.