Home World


Sri Lankans celebrate Vesak in Qatar
THE PENINSULA, May 9, 2009
DOHA, Qatar -- Hundreds of people gathered at the Sri Lankan Embassy yesterday to mark Vesak, which is celebrated as a religious and a cultural festival in Sri Lanka. The day, observed by practicing Buddhists in many Asian countries, marks the birth, enlightenment and passing away of Gautama Buddha.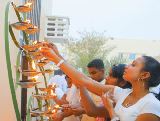 << Sri Lankans light traditional lamps at the Sri Lankan Embassy yesterday on the occasion of Vesak.
"The embassy hosts this event to promote the oneness of the Sri Lankans here. The Vesak day, like any other festival, stresses on leading a moral and compassionate life. The celebration here is joined in by people of all communities and religions, which reflects the true message of the day," said one of the embassy officials.
The events, which began in the morning with traditional celebrations, concluded with a colourful cultural show staged by the Sri Lankan community in Qatar. Electrically lit toranas, colourful lanterns called Vesak koodu and bhakti gee or Buddhist devotional songs, were the highlights of the event.
Enormous lighted structures erected at the embassy premises illustrated a story from the 550 Jataka Katha (Past Life Stories) of the Buddha. With the structure and lanterns, the organisers were able to create the traditional festive atmosphere of Vesak. The lanterns signify the light of the Buddha, Dharma and the Sangha. The Sri Lankan children sang traditional songs and presented a short skit on the life of the Buddha. Prior to the event, a meditation session was held as per tradition.
Vesak is celebrated in Thailand, India, Sri Lanka, Cambodia, Indonesia, Myanmar, Vietnam and Laos and by Buddhists in some Western countries.