Home World


Tzu Chi ramps up for trip to Haiti, awaits word on the safety of it volunteers in the country
By Brian Charles, Pasadena Star-News, Jan 13, 2010
PORT-AU-PRINCE, HAITI -- As Haiti digs out from an earthquake that devastated the country, a local relief organization worries that its own volunteers may be counted among the victims.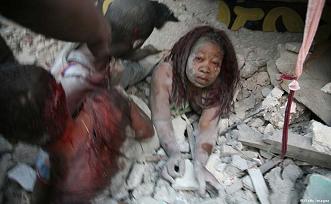 The Tzu Chi Foundation, an international relief organization that maintains its U.S. headquarters in San Dimas, lost its Hatitian headquarters when a 7.0 earthuqake rocked the impoverished country on Tuesday.
"Our compound is totally collapsed," said Debra Boudreaux, Tzu Chi spokeswoman.
Tzu Chi volunteers and staffers were in Haiti as part of humanitarian aid in response to a series of hurricanes in 2008 that caused major flooding and left thousands dead, Boudreaux said.
A 7.0-magnitude quake that hit Tuesday toppled thousands of buildings in Haiti, trapping untold numbers of people. Without heavy construction equipment readily available in the country, Haitians along with the Tzu Chi volunteers are forced to manually dig through the rubble.
"Everything is being done by hand,"
A massive relief effort is underway to help the victims of the quake. Tzu Chi is on contact with the American Red Cross and the U.S. State Department to fly in food and medical supplies, Boudreaux said.
The relief organization is asking for the community to support this effort. For more information on how to donate visit the Web site: www.tw.tzuchi.org or call 909-447-7799.