Home Personality


Richard Gere is set to divorce his wife in favour of Buddhist lifestyle
The Independent, 26 September 2013
Los Angeles, USA -- RICHARD Gere and his actress wife Carey Lowell have split up after 11 years of marriage.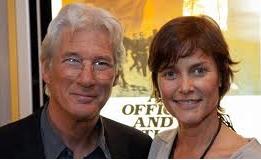 According to The New York Post the couple who have a son have been living apart for some time, but have decided to divorce.
The Hollywood pair are married 11 years, and have a 13-year-old son called Homer, but have not been seen together in public for a year.
Their vastly different lifestyles are said to have caused them to drift apart.
It is thought Gere's devotion to the Buddhist religion was a contributing factor to the relationship breakdown.
He is said to favour a life of solitude, while Lowell, who played a Bond girl in Licence to Thrill, still enjoyed a social life.
The 64-year-old actor made his name in the 1980's in movies like An American Gigolo and An Officer and a Gentleman, and cemented his heartthrob credentials in Pretty Woman with Julia Robers in 1990.
He was previously married to supermodel Cindy Crawford, but the 17 year age group is said to have been the cause of their marriage to end.