Home Personality


Heeding Buddha?s call to help those in need
The New Straits Times, July 5, 2005
KUALA LUMPUR, Malaysia -- Ng Kah Choong is a 39-year- old civil servant with a big heart. The former chairman of the Sungai Siput Buddhist Association (Youth Circle) is no stranger to organising activities for the less fortunate.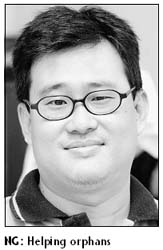 Since 1998, the association has conducted two blood donation campaigns each May to coincide with Wesak Day and National Youth Day, and Ramadan, when stock at the blood bank is low.
Ng himself has donated blood 15 times. Ng, now a committee member of the association, is also active in assisting orphans through the Muhibah Community and Welfare Association. His focus is on orphans staying with relatives.
The association started a programme last year to provide the orphans with school uniforms, bags and shoes, and a monthly allowance.
In addition, children who excel in their studies are given monetary incentives.
Recipients continue to receive aid until they complete Form Six. Eight orphans in the Sungai Siput area have benefited from the aid programme.
Ng has also participated in development programmes for the Orang Asli in Sungai Siput. Awareness campaigns on cleanliness, river and forest preservation, and health care have also been held for them.
Last year, Ng managed to secure a sponsor for an artificial leg for Kee Chou Hoo, a 54-year-old logger from Salak Baru New Village, who lost a foot at work.
On what motivates him, Ng said he was merely responding to the Buddha?s call to help those in need.