Home Personality


Model Kohinoor becomes Buddhist nun
Kantipur Online, July 19, 2005
KATHMANDU, Nepal -- Famous Nepali model Kohinoor Singh has decided to become a Buddhist nun. She gained prominence through music video made by Music Nepal a few years ago. She said she had wanted to become a nun ever since her childhood days.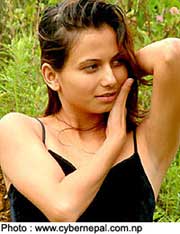 << Kohinoor (Before)
25-year-old Ani Losang Dolma neither has any pride of her past nor any regret. She said, ?I am what I was yesterday and will remain the same in the future. People who saw my outside appearance are the only people who are surprised by the change. Kohinoor, who is now known as Ani Losang,? said this to Kantipur Television Tuesday.
Kohinor said she decided to become a nun due to an influence of an old monk.
She was known as Deepa Singh before she became famous as model Kohinoor. Her father came from India and decided to stay in Nepal permanently after he married a Nepali.
<< Kohinoor (After, now known as Ani Losang)
She appeared on the ramp at the age of 15 and since then she established herself as Kohinoor.
She then became a television presenter and gained prominence through a music video produced by Music Nepal.
Living near Swayambhu, she had always seen the lives of monks.
She is currently living at her house but says she will go and live in monastery when she is called by her Guru next month.