Home Personality


Eminem Has Buddhist Tendencies, says expert
The Buddhist Channel, Aug 29, 2006
New York, USA -- Parents of Eminem fans can relax as the controversial rapper may actually be preaching a more peaceful Eastern philosophy with his lyrics. A leading Buddhist expert has claimed that Eminem has leanings towards the religion through his songs.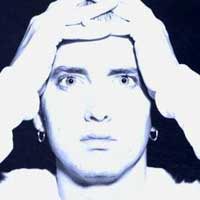 << Despite spouting foul-mouthed lyrics seemingly about violence, misogyny and homophobia, Perry Garinfkel sees some good in Eminem.
According to pagesix.com, Garfinkel in his new book 'Buddha or Bust' says that Buddha's philosophy is cryptically encoded in Eminem's hit song 'Lose Yourself', despite also having songs called 'Kill You', 'Bitch' and 'Just Don't Give A F***.'
The line 'You better lose yourself in the music, the moment' actually 'mirrors the Buddhist meditative practice of mindfulness, in which the practitioner lives in the here and now. By being present in the moment, he finds himself'.
"By being present in the moment, he finds himself."
Despite such positive messages, Gafinkel concedes that Eminem probably doesn't know too much about the religion.
He added: "I highly doubt Eminem would know a boddhistva from a bodacious babe."