Home Personality


Ricky Martin admires Buddhist philosophy
Asian News international, November 28, 2006
Washington, USA -- Singer Ricky Martin may be a Christian, but when it comes to religion it is the Buddhist philosophy that he admires.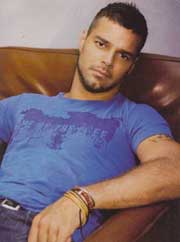 << Ricky Martin
However, the 'Livin La Vida Loca' singer is not yet ready to convert and become a practicing Buddhist like Hollywood hunk Richard Gere, for he also feels that it also 'limits' a person in certain aspects.
"I really like the Buddhist philosophy but that doesn't mean that I am of the religion. If I subscribe to Buddhism, I can't be of anything else. They limit to you in many aspects, and I am not going to follow those rules," TMZ.com quoted him, as saying.
Martin also believes that every person has the right to decide what makes them happy, and insists that he is not the person who would ever look down upon one religion.
"I believe that everybody has the right to decide what makes him/her happy. I am not one to say what is better and which is worse in terms of faith," Martin said.
"According to the teachings of Buddhism, the worst thing than you can do to your karma is to say to someone else that their faith is bad," the Puerto Rican singer added.