Home Personality


Cambodians regret death of top Buddhist monk
People's Daily, March 14, 2007
Phnom Penh, Cambodia -- Cambodian officials, monks and followers on Wednesday regretted the death of top monk Maha Ghosananda.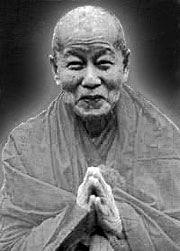 << Bhante Maha Ghosananda (1929 - 2007)
The Cambodian government very much regretted for losing Ghosananda, who contributed much to Cambodia in helping restore peace, develop Buddhism, and stop violence in the country, said Minister of Information Khieu Khanharith.
Ghosananda died on Monday at the age of 78 in hospital in Massachusetts, the United States. The cause of his death is unclear yet.
Kong Nam Many, chief monk at the Sampov Meas Pagoda in Phnom Penh, told Xinhua that Ghosananda, when in Cambodia, used to say that he wanted to die in his homeland.
"He usually stayed in a small room in our pagoda. He founded the Non-Violence Dharmayeatra Center for Peace and Humanity in our pagoda," he said.
In addition, Ghosananda wrote a book named Step by Step for Cambodian Buddhists to learn about the religion, he said.
Ta Ry, one of the monk's followers, told Xinhua that Ghosananda left Cambodia for the United States in the late 1980s to help the Cambodian communities there learn about Buddhism and build pagodas.