Home Personality


Buddhist Paris Hilton
Monster & Critics, May 24, 2007
Los Angeles, USA -- Paris Hilton has turned to Buddhism in her ongoing campaign to avoid jail. The hotel heiress - who has been sentenced to 23 days in jail for driving with a suspended licence - was seen in Hollywood's Bodhi Tree bookstore picking up a spiritual tome.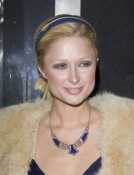 Earlier this week, 'The Simple Life' star was spotted clutching the Bible and a self-help manual.

Lawyers for Paris, 26, have told the socialite she needs to "live like a nun" if she has any chance of evading jail.

Paris has told friends she is quitting alcohol and partying and has replaced her skimpy outfits with a new demure look.

She also recently made a public show of playing the loyal daughter by visiting her father Rick in hospital with a huge get well soon card.

A friend of the star said: "Paris' attorneys have insisted she live like a nun. She has been strictly advised to stop acting like a Hollywood brat and appear more humble as they battle to keep her out of jail.

"They have ordered her to show a judge she has some humility and social responsibility if she is going to have her sentence reduced on appeal. That means no booze, no parading round in skimpy outfits, no partying. She's got to stick with her family and take on a healthier regime."

Paris is due to begin her sentence at California's female-only Century Regional Detention Centre in Lynwood on June 5.