Home Personality


Manchester United's Korean soccer star praises backroom staff and Zen for quick rehabilitation
Goal.com, Jan 30, 2008
Manchester, UK -- Manchester United midfielder Ji-sung Park praised the innovative Old Trafford medical staff for getting him back to full fitness and making the process fun.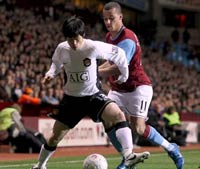 The Korean admitted to going though a hard time during his rehabilitation after opting for knee surgery in April of last year. He missed pre-season in a bid to eliminate recurring knee troubles and get his career back on track.
He maintains that if it wasn't for the United medical staff, he might not have made his recent comeback.
"They encouraged me by making my rehabilitation exciting," Park told ManUtd.com.
"They said a lot of good things like telling me that I would be back stronger than I had been before. That helped me concentrate on getting back – they really helped a lot."
Zen
25-year-old Park, a practicing Buddhist, also revealed how trips back to his native Korea helped him to stay positive.
"I went home in the summer, and also for two weeks and then another week later," he continued.
"That was really nice because it allowed me to see my family and friends. It allowed me to talk a lot and the mentality is very relaxed and quiet, and I felt so good there.
"I then had to come back to Manchester and start the rehabilitation training again, but mentally I was relaxed. That allowed me to concentrate again, so it definitely helped."
The energetic Park will now focus on forcing his way into the Red Devils first-team as they bid for domestic and European glory.