Home Asia Pacific North Asia S/N Korea Arts & Culture


Buddhist scriptures festival draws over 80,000 visitors
Yonhap News, Sept 30, 2013
CHANGWON, South Korea -- South Korea's only Buddhist cultural festival themed on "Tripitaka Koreana" has attracted more than 80,000 visitors in the first three days of opening this year, the event's organizers said Monday.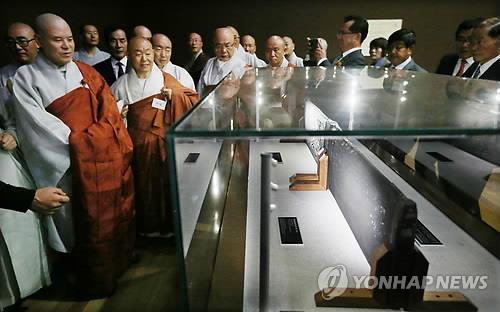 The 2013 Tripitaka Koreana Festival kicked off on Friday in the southern city of Hapcheon for a 45-day run until Nov. 10, with the goal of increasing the world's awareness of the Buddhist scriptures.
Tripitaka Koreana, or "Palmandaejanggyeong" in Korean, is a collection of 13-century Buddhist scriptures carved on more than 80,000 wooden printing blocks, comprised of 52 million characters.
The collection is considered the most comprehensive set of Buddhist scriptures found to date. The Haein Temple, where the texts are kept, is a UNESCO World Heritage site.
As of Sunday, a total of 83,090 people had bought tickets to enter a theme park that serves as the festival's main venue in Hapcheon, 354 kilometers south of Seoul, according to the organizing committee for the event.
The committee said the total number of visitors to the festival is expected to top 100,000 when visitors to the event's other venues, such as Haein Temple and Sori Road, are included.