Home Asia Pacific North Asia S/N Korea History & Archaeology


Seokatap, an UNESCO World Heritage site in Korea
by Emi Hailey Hayakawa, BTN, Apr 29, 2013
Seoul, Korea -- The famed Bulguksa in Gyeongju province, South Korea, an UNESCO World Heritage site houses Korea's National Treasure No. 21, the famed three-storied stone pagoda, Seokatap.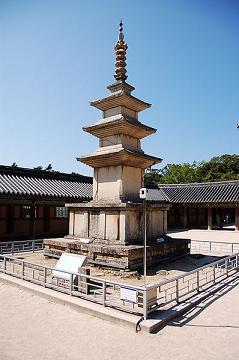 The Seokatap is very simple and has a basic design with three stores and gives off a sense of balance and symmetry. This pagoda is over 1,000 years and said to be build in the Baekje dynasty.
On September 27th, 2012 the Bulguksa temple began the major restoration project of the Seokatap. During this restoration, the Seokatap will be completely dismantled and put together again for complete restoration. It's estimated cost for the restoration is reported to be approximately USD 3million.
On April 2nd 2013, the restoration team removed the six-ton second roof, known as the Okgaeseok, and revealed a hall underneath which held a gilt-bronze casket for holding the sarira of the Buddha. It has been 47 years since the sarira box was exposed, as the last time the sarira was found was during the last restoration in 1966, when thieves tried to steal the artifacts and damaged the Seokatap during the process.
Venerable Sungta, the chief-abbot of Bulguksa temple states, "It is a deep honor to be able to view the 2600 year old sari of the Buddha. The sarira will be kept at within the temple before the pagoda is fully restored."
The National Research Institute of Cultural Heritage and Bulguksa decided to restore the Seoktatap and the Dabotap to preserve the Korean heritage within the UNESCO site.
They plan to completely disassemble the pagoda and conduct research on the condition of the ground it had been standing on for centuries.