Home Asia Pacific North Asia S/N Korea Temple Stay


Pre-dawn calls and hard beds – South Korea's spiritual tourism
AFP, December 23, 2012
SEOUL, South Korea -- As a paying guest at Mihwangsa, there's no need to book a morning wake-up call.
It's provided well before sunrise, at 4am to be precise... and it isn't optional.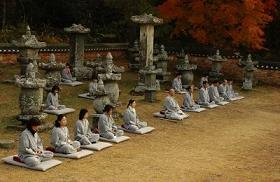 << Participants and monks taking meditating sessions during a temple stay at a yard of Mihwangsa temple in Haenam, 350km south of Seoul. – AFP pic

Instead of a phone call - none of the rooms have phones - guests are roused by a monk walking past their rooms, knocking on a wooden block to call them for a round of pre-breakfast chanting and meditation.

The dozen guests who make their sleepy way to the temple's main hall - clad in identical grey loose-fitting outfits - are all taking part in Mihwangsa's Templestay programme.

Ranging from middle school students to housewives in their late 30s, and including Koreans and foreigners, they were attracted by what has become a thriving mini-tourist industry in temples across South Korea.

"I wanted to be isolated in the mountains while experiencing the traditional life," said Helena Ranneberg, a Danish web consultant.

Mihwangsa temple is undoubtedly isolated, located halfway up a mountain in coastal Haenam county around 320km southwest of Seoul.

The Templestay programme has its unlikely origins in the 2002 football World Cup which was co-hosted by South Korea and Japan.

When the government made a general appeal for help in overcoming a shortage of hotel accommodation, the Jogye Order, the country's largest Buddhism sect, saw an opportunity and began opening its temples to short-term paying guests.

"There were shared voices within Buddhism that we needed to interact with the outside world by opening ourselves to the public," said Kumgang, the head monk of Mihwangsa.

The rates are relatively cheap, ranging from 50,000-80,000 won (RM138 to RM230) a night, and the amenities are spartan compared to any mainstream hotel.

Guests are obliged to sleep on thin cotton mattresses on a hardwood floor, eat vegetarian food and participate in classes on Buddhism, morning meditation and evening chanting of scriptures — all led by monks.

"The most difficult part for me was to sit and lie on the wooden floor," confessed Ranneberg.

"I just couldn't sleep at night."

In their free time, they can hike in the surrounding area, read books, drink tea and participate in much of the temple's daily life. Drinking and smoking are forbidden and mobile phone use actively discouraged.

"Other than ceremonies, I can relax, drink tea with the monks and have discussions on life... It's all I could wish for," said Park Seung-Kyung, a housewife from Gwangju who had booked in for three days.

None of the monks at Mihwangsa speak English, but a lay Buddhist living in the temple helps interpret for foreign guests.

For Ranneberg, the language barrier was not an issue.

"Before dawn, I had time on my own in complete darkness, just sitting in front of the traditional architecture... And that really was something different, something I would never be able to experience anywhere else," she said.

Since the programme began a decade ago, the number of participating temples has risen from 33 to 109 and close to two million people have stayed in them.

Last year, the number of Templestay guests was 212,437, of which around 12 per cent were foreigners.

Since 2004 the government has provided subsidies totalling around US$100 million (RM306 million) to the programme which the government sees as a force for promoting traditional Korean culture.

But not everybody is happy.

Last year, the Korean Association of Church Communication issued a statement arguing that there was "room for conflict" in the government subsidising a programme associated with one particular religion.

"There clearly is a problem with financially supporting missionary events by specific religion," it said.

The official Templestay website stresses that the programme is mainly aimed at providing a cultural experience, rather than an effort to promote religious belief.

Tensions between Buddhism and the Christian Church have deep roots in South Korea.

Historically the dominant religion, Buddhism has been eclipsed by Christianity which grew at an incredible pace in the 20th century, especially after the 1950-53 Korean War.

Thirty percent of the population describe themselves as Christian, making South Korea one of the most Christian countries in Asia, ranking third after the traditionally Catholic Philippines and East Timor.

Buddhists now comprise a little over 20 per cent, and there is some resentment in the Buddhist community over South Korea's embrace of a particularly evangelical style of Christianity that places a strong emphasis on proselytising and missionary work.

The Jogye Order plans to designate more temples as Templestay hosts next year and head monk Kumgang says Mihwangsa will continue to participate in the programme.

"Templestay can provide people who live a busy life with a place to relax and refresh... like a realm of peace and spiritual growth," he said.