Is Yoda a Zen Master?
PRWEB, April 8, 2005
New book "The Dharma of Star Wars" Offers a Refreshing Take on the Famous Film Saga
"Dharma of Star Wars" author and self-proclaimed super-fan Matthew Bortolin offers an insightful and fun new way to look at all the Star Wars films ? including the recent ones that even die-hard fans found perplexing. Just in time for the final episode, here?s the surprising Buddhist angle, great for your Star Wars coverage.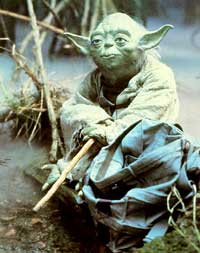 Somerville, MA -- Imagine: a new way to appreciate all of the Star Wars movies?even the almost universally-detested Phantom Menace and Attack of the Clones!
Movie-goers may have their fingers crossed that Lucas?s final installment this Spring is a return to form, but Matthew Bortolin, author of the Dharma of Star Wars (April 2005) will be happy whatever the outcome?and he thinks that we should be, too.
A full fledged, Jedi robe-wearing Star Wars fanatic, Bortolin has made peace with the inconsistency of the franchise, and in fact, boldly defends every episode! His book, The Dharma of Star Wars, asks the sorts of question that even the most casual fans might wonder about: Is Yoda supposed to be some kind of Zen Master? What would it be like to train as a Jedi? Why is it that the story of Luke Skywalker and Darth Vader feels so epic, so universal? In the answering, Bortolin reveals surprising and satisfying depths of all of the Star Wars films, even those that critics and fans found disappointing. Bortolin?s enthusiasm and unique point of view will be a hit with anyone, from old-schoolers whose kids came of age during the first wave of Star Wars-mania, to the young fans of today.
Bortolin has begun to do press in advance of The Dharma of Star Wars? arrival in stores mid-April ?just in time for fans to re-familiarize themselves with the arc of the entire Star Wars saga!
To learn more about this fun new take on Star Wars, visit the book?s web-page at www.dharmaofstarwars.com, or contact Rod Meade Sperry at 617?776-7416, ext 29.
Book Specs
Title: The Dharma of Star Wars * AUTHOR: Matthew Bortolin
Price: $14.95 * SIZE: 6x9, 224 pages
ISBN 0-86171-497-0
Publication: April 2005