A history of Buddhism in colonial Burma
By Amaury Lorin, Myanmar Times, 2 March 2015
Yangon, Myanmar -- Most academic research fails to attract much attention beyond a narrow circle of devotees, more's the pity. But the interested reader will profit greatly from a fascinating work just published: Saving Buddhism: The Impermanence of Religion in Colonial Burma by American historian Alicia Turner. Turner is Associate Professor of Humanities and Religious Studies at York University in Toronto, Canada, and editor of The Journal of Burma Studies. Her synthesis, presented by the author on January 18 at Pansodan Scene in downtown Yangon, allows an in-depth understanding of the roots of today's complex Myanmar.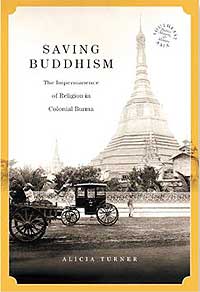 It took a whole decade of delving into abstruse sources – newspapers, Buddhist journals, donation lists, colonial reports – to provide Turner with the material to write her book. She explores the fluid nature of sãsana ("the life of the Buddha's teachings"), identity and religion through a study of Buddhist lay associations from 1890 to 1920. The period covered, then, begins just after the fall of the monarchy in Mandalay in 1885 ended "the lineage of royal Buddhist patronage". What can we learn from it?
First, in seeking to understand how British colonialism, from 1824 to 1948, transformed local ideas and categories, Turner reinvestigates the key role religion played in the colonial encounter, not only as a mode of passive response to foreign domination, but as an ordering category for colonial rule itself. In other words, Turner's book confirms that the social dynamics in a colonial situation are far more complex than a confrontation of racial groups perceived solely in terms of antagonism. Many interactions occur at all levels, including the religious, between the coloniser and the colonised, learning from each other through daily contact – even if the gap between the goals of the colonial state and the Buddhist worldview created an irreconcilable dissonance.
Second, the book argues that a concern that Buddhism was in decline during the colonial period helped create a new sense of identity for Myanmar people, but one different from what is today called "nationalism". For Turner, the idea of a solid Myanmar nation is problematic. This nation is not as old or as absolute as histories want us to believe. The author convincingly defends the idea of the existence of a "moral community" and a "sense of collective belonging" rather than a nation defined by religion.
Third, this transformation of Buddhism at the turn of the 20th century caused a massive social movement, according to Turner. Indeed, Myanmar people felt that colonialism was a sign that knowledge of the Buddha's sãsana was dangerously slipping away. This fear of decline inspired action to prevent its irreparable loss, especially regarding morals, dress, manners, respect for elders and conduct – drinking alcohol and gambling. For instance, the European practice of wearing shoes at pagodas quickly became a sensitive issue. More worrying, "[Boys] abandoned studying in the monasteries to attend government schools in hopes of a lucrative career as a clerk. The monks no longer held the same respect."
Amazing stories of Buddhists in the colonial period – from petitions for vegetarianism done in the name of animals, to girls chanting the Abhidhamma (the higher teaching of the Buddha) in processions, to the creation of Buddhist elementary and high schools – show how active and engaged people were at that time, and make Saving Buddhism a very lively book.
History usefully teaches us the instability of categories. Turner's critical interrogation of the terms "religion" and "nation" in Myanmar's case provokes a refreshing effect. A major contribution to ongoing studies on comparative colonialism, religious transformations, nation, and identity in mainland Southeast Asia, Saving Buddhism finally challenges us not to take things for granted.