Examine spirituality as it relates to science
By DANA DUGAN, Idaho Mountain Express Staff Writer, Sept 2, 2005
The Dalai Lama's new book to be released next week
Wood River Valley, Idaho (USA) -- His Holiness the Dalai Lama is not only a uniting presence all over the world, he is the author of more than 10 books. His latest is being released by Doubleday's Morgan Road Books two days after his Sept. 11 appearance in the Wood River Valley.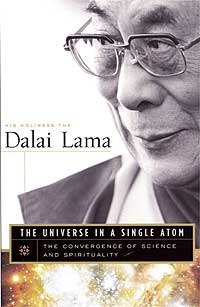 "The Universe in a Single Atom: The Convergence of Science and Spirituality" is a subject that His Holiness has long studied. Remarkably, it's not such an odd idea that one of the most highly regarded spiritual men in the world is interested in and passionate about science.
Indeed, the Dalai Lama writes that his book is an "effort to explore two important human disciplines for the purpose of developing a more holistic and integrated way of understanding the world around us, one that explores deeply the seen and the unseen, through the discovery of evidence bolstered by reason."
His interests began early. As a small boy, shut away with elderly tutors in the gigantic Potala Palace in Lhasa, Tibet, the young lama spent hours tinkering with the mechanical objects left there by his predecessor, the 13th Dalai Lama, including watches and two film projectors. His fascination with mechanics, science and technology was established then and has long flourished despite his having had no formal education in the sciences.
About a decade after his exile in 1959 he began traveling extensively, and ever since he's enjoyed long friendships with many scientists, including the late renowned philosopher of science Sir Karl Popper, physicist Carl von Weizsäcker and the late quantum physicist David Bohm. He has participated in many conferences on science and spirituality. In 1983, His Holiness met Chilean neuroscientist Dr. Francisco Varela, who, in partnership with Adam Engle, created a unique form of in-depth dialogue between Buddhism and science that has grown into the Mind and Life Institute.
Since the first Mind and Life meeting in 1987, His Holiness has regularly dedicated a week to these biennial meetings. It comes, then, as no surprise to find in the new book that he is astute and learned on the subjects.
His Holiness the Dalai Lama also convenes neuroscientists and Buddhist scholars to define the next steps in the study of the mind and brain. These have typically been intimate meetings at his residence in Dharamsala, India.
Science and Buddhism share a common objective, His Holiness writes. That is to
serve humanity and create a better understanding of the world. Science offers powerful tools for understanding the interconnectedness of all life, he has said.
He writes: "Strictly speaking, in Buddhism scriptural authority cannot outweigh an understanding based on reason and experience. Buddha himself, in a famous statement, undermines the scriptural authority of his own words when he exhorts followers not to accept the validity of his teachings simply on the basis of reverence to him."
He goes on to say that people should test the truth of what is said through "reasoned examination and personal experiment."
Both science and Buddhism are "two investigative traditions." His Holiness is a man deeply rooted in the life of the mind. His spirituality does not encourage him or his followers to convert anyone. Rather, since his message is and always will be compassion, he strongly encourages keeping an open mind at all times.
"The Universe in a Single Atom" shows this concept over and over. It's not an easy read. There are no daily affirmations on the subjects of which His Holiness expounds. Instead, the book is scholarly though chatty and informative. Chapters come with headings such as "Emptiness, Relativity and Quantum Physics," "Evolutions, Karma and the World of Sentience" and "Ethics and the New Genetics."
On His Holiness' desk in Dharamsala sits a figure. It's not a religious icon, but an icon to him nonetheless. It's a plastic model of a brain with detachable labeled components. A gift, it includes a handwritten synopsis of the key points of neurobiology.
Get your head around it. His Holiness has, albeit with some of the best teachers and mentors in the world.
--------------
"The Universe in a Single Atom: The Convergence of Science and Spirituality" by His Holiness the Dalai Lama. 209 pages $24.94 Morgan Road Books/Doubleday