Manhae's layered Korean love poems
by Mark Austin, Daily Yomiuri Staff Writer, Dec 11, 2005
Title: Everything Yearned For: Manhae's Poems of Love and Longing
Wisdom Publications, 171 pp, 15 dollars
Tokyo, Japan -- The monk-poet Manhae (1879-1944) is a national hero in Korea, where he is revered as a father of the movement to win independence from Japan.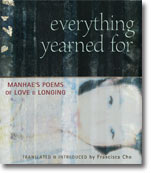 Before he was ordained as a Buddhist monk in 1905, Manhae, whose birth name was Han Yong Un, was actively involved in the resistance against the Japanese occupation of his homeland from 1910 to 1945, and he was an author of the March 1, 1919, Declaration of Korean Independence, which ignited a nationwide movement against the colonizers that was brutally put down.
Manhae is equally well known for his social writings and poetry, notably Nim ui Chimmuk, an anthology of 88 love poems first published in 1926. Most Koreans probably can quote at least a few lines from these verses.
Francisca Cho, professor of Buddhism at Georgetown University in Washington, recently was awarded the prestigious Daesan Literary Award for Everything Yearned For: Manhae's Poems of Love and Longing (Wisdom Publications, 171 pp, 15 dollars), her translation of the volume. The annual award, which carries a prize of 30 million won (30,000 dollars), is granted by the philanthropic Daesan Foundation. In praise of Cho's work, former U.S. poet laureate Robert Pinsky wrote recently in The Washington Post: "In Cho's renderings, these poems have the power to expand an American reader's notion of poetry."
Born in 1961 in Seoul, Cho is a first-generation immigrant to the United States, where she moved with her parents and two younger sisters when she was 6 years old. Though Cho's parents addressed each other in Korean, the family spoke English at home "so that my mother could acquire it and have access to American society," Cho said. She and her sisters stopped speaking Korean, "but we heard it on a daily basis. Even now, I am not conversational in Korean, but I have an intuitive grasp of the language."
The concept of "nim" is central to Manhae's poetry. It is a multivalent word that, Cho notes in an essay accompanying her translations, "can signify not only a 'lover' in the romantic and erotic sense but also anyone or anything that is held in loving esteem--one's political sovereign, parent, teacher; one's country, humanity, God." The preferred reading in Korea traditionally has been that Manhae's nim is an allegorical reference to his homeland, but Cho believes abstract construals of the meaning of nim miss the point Manhae was trying to make, which is that "we can transcend ourselves through worldly pursuits such as politics or erotic love"; a position that defines what Cho sees as Manhae's "socially engaged Buddhism."
Following are excerpts of interviews The Daily Yomiuri conducted with Cho recently by phone and e-mail.
The Daily Yomiuri: A recurring device Manhae uses in his love poems is the presentation of opposites that clash and reconcile endlessly in ludic, tragic and erotic ways. "Let Us Be One" is a good example. Is this a reflection of Manhae's Buddhist beliefs, specifically the one you quote from his Nae ka Mitnun Pulgyo (My Buddhist Beliefs): "The real view of Buddhism is that mind and matter cannot be independent of each other"; in other words, that which conceives and that which is conceived are inseparable because they are aspects of each other?
Francisca Cho: I love Manhae's use of paradoxical and contradictory language. I believe this is very much an expression of his Buddhist philosophy and the Chan/Zen tradition, whose use of language can be traced back to the Chinese Daoist philosopher Zhuangzi, who used language in very playful ways in order to make the point that language can never encompass all of reality. Language always forces you to look at one aspect to the exclusion of all the others. So the best use of language is paradoxical, and, incidentally, it makes for really striking literature. Manhae uses this insight to great effect in order to express the complex truths of experience.
Manhae's love poems have been compared to those of the mystic poets Tagore and Rumi. Some might wonder whether the path to spiritual enlightenment and that to romantic fulfillment run in the same direction. After all, one seeks to overcome the ego, the other to satisfy it.
I believe love and religion are the realms where the language of longing is the most natural and appropriate. They do seem very different in their self-regarding and other-regarding aspects, respectively, but, in truth, religion can be very much about what "I" want, and romantic love can very well be about transcending the self/ego, even if it begins as a form of gratification. I believe this is part of Manhae's point in applying nim to both religion and love. The object is not as important as how one relates to it.
Given Manhae's strong political convictions, expressed in poems such as "I Saw You" and "Passion's Sky, Sorrow's Sea," what do you think he would make of the current state of Japan-Korea relations and the political division of his homeland?
This is a tough question. He was passionate and committed in his politics, but I believe his views would change as circumstances changed. What that amounts to in actual position is hard to say. The North-South division, for example--my parents' generation is still adamantly anti-North, anticommunist, because of their personal experiences. The current young generation expresses a romantic longing for the North and for unification which also conveys a deep cultural sense of suffering. Manhae would certainly have a point of view, but I can't presume to know what that might be.
Your translation won the Daesan Literary Award. I wonder, however, whether your reading of Manhae, which rejects the popular--and narrowly nationalistic--interpretation of his work, met with any criticism in Korea, a country where nationalistic sentiment runs high, especially these days.
So far, there has been no [negative] critical response to my reading of Manhae. It may come, but my informal conversations with Koreans here in D.C. give me the sense that the average Korean does appreciate Manhae as much more than a political figure. They appreciate the emotional and poetic aspects of his work. So I'm starting to get the sense that the overtly nationalistic reading is the feature of the Korean scholarly works that I was relying upon. So perhaps there is a gap between the scholarship and the way average Koreans read Manhae.
What is the main feature that sets your translation apart from its predecessors?
I think my greatest strength is my command of English and having had the liberty to make this translation my own creative effort. The [Younghill] Kang and [Francis] Keeley, and the [Jaihiun] Kim and [Ronald] Hatch translations tried to balance the Korean and English efforts by having one person in each. There is a certain amount of sense in this, but having two translators probably makes for more difficulties and negotiations about how to render passages. I had the advantage of a solo effort, and my focus really was on creating a new body of poetry in English.
Let Us Be One
By Manhae
Translated by Francisca Cho
If you take my heart, take me too and make me one with you.
If not, give me your heart not just the heartache, and be one with me.
If not, send back my heart and give me unhappiness.
Then I'll have my heart and love the pain you give.