Glimpse Into Buddhist Art through Books
By Cathy Rose A. Garcia, The Korea Times, June 30, 2007
Seoul, South Korea -- With the numerous Buddhist temples around Korea, it is obvious the influence of Buddhism still holds strong. However, not much is written about Korean Buddhist sculptures and architecture.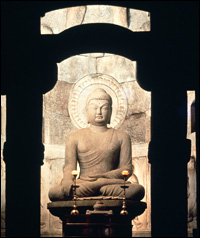 << The Seated Buddha, a granite sculpture from the Unified Shilla period, can be found at Seokguram grotto, Mt. Tohamsan, Gyeongju, North Gyeongsang Province
/ Courtesy of Hollym
By Cathy Rose A. Garcia
Now, there are two English-language books ``Buddhist Sculpture of Korea'' and ``Buddhist Architecture of Korea'' published by Hollym as part of the Korean Culture Series.
In the book ``Buddhist Architecture in Korea,'' Yonsei University professor Kim Sung-woo carefully examines the role of architecture in traditional Buddhist culture. ``Equipping oneself with some basic knowledge before visiting a temple will facilitate a more meaningful experience and impression of Korean Buddhist architecture. For almost 2,000 years, Koreans have satisfied their search for truth through Buddhism, and the physical remains are the temples and temple architecture,'' he said.
He gives historical background on the Buddhist temples in Korea, as well as the philosophy behind the layout, gates, pavilions, halls and pagodas. Visitors should be aware of how the Koreans' composition of the buildings, spaces and structures come together to create a distinct atmosphere.
``Korean temples are remarkable achievements precisely because they express values and ways of thinking acquired over many years. Korean temple architecture, unlike Western architecture, is not just about buildings, nor is it mainly about a visual experience. Its deep hidden significance lies in the arrangement of the buildings and the visitor's experience as he walks around listening to the stories the temple tells,'' Kim said.
The book has numerous photographs and detailed descriptions of noteworthy temples such as Bulguksa, Haeinsa, Bongjeongsa, Seonamsa, Unjusa and Yongjunsa. ``The Buddhist temples of Korea are not just examples of traditional architecture, they are the only vibrant living strongholds of traditional culture in contemporary Korean society,'' he said.
Another book, ``Buddhist Sculpture of Korea,'' is a good introduction for any reader who doesn't know much about Buddhist sculptures.
Written by Kim Lena, a professor of Korean and Buddhist Art at Hongik University, the book explores the different sculptures from the Three Kingdoms period when Buddhism was introduced in Korea, up to the Joseon dynasty.
Although there is a scarcity of images and artifacts from Korean temples, Kim managed to compile interesting photographs of Buddhist sculptures.
``It is often said that there was a decline in Buddhist activities after the end of the Goryeo Kingdom, due to the official Joseon government policy to suppress Buddhism, yet we can see that the Buddhist faith never faded away throughout Korean history and it still serves as a spiritual basis in the everyday lives of ordinary Korean people and gives promise for their afterlife,'' she said.
The two books may be quite academic for the ordinary reader, but those interested in Buddhist culture would find them interesting
Buddhist Architecture of Korea
Author: Kim Sung-woo
Publisher: Hollym
152 pp., 19,800 won