Zen Buddhist priest's new book navigates life with 'The Odyssey'
by Leslie Harlib, Marin Independent Journal, June 12, 2008
Navato, CA (USA) -- ZEN BUDDHIST PRIEST Norman Fischer's sun-filled home on the cliffs above Muir Beach embodies a classic idea of paradise. It's surrounded by fragrant gardens of herbs and flowers planted by his wife, Kathie, who's also a Zen Buddhist priest.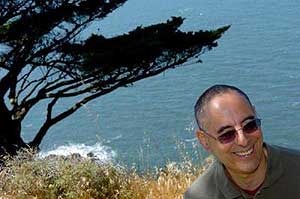 << Zen priest and author Norman Fischer, at his Muir Beach home, writes about using Homer s Odyssey to navigate life in his book Sailing Home. (IJ photo/Frankie Frost)
Waves crash on the rocks 50 feet below. There are gnarled trees a short distance from the house that overlook an ocean view out to what feels like the ends of the earth. The air is tinged with brine while the sea off this part of the coast looks, as Homer wrote in "The Iliad," "wine-dark."
For a writer, inspiration doesn't get much better than this.
Sparked partially by the setting of his home - willed to him and his family five years ago by a devoted Zen student - and by Homer's epic 3,000 year-old poem "The Odyssey," Fischer has written his latest book: "Sailing Home: Using the Wisdom of Homer's Odyssey to Navigate Life's Pitfalls and Perils (Free Press/Simon & Schuster), released last week.
"I'm always talking about how what it means to be human is to have a spiritual life regardless of whether you're religious, not religious, or whatever you're interested in," Fischer, 61, said. "In 'The Odyssey,' it's about the spiritual journey as a journey home. I use many of the events in 'The Odyssey' in my book to talk about that journey and make it relevant now."
That Odysseus and his long-suffering wife, Penelope, are probably both in their 50s when they are finally reunited is part of the power of the tale, Fischer believes. The hero
Advertisement
sets off on his epic journey after already having been married, fathered a son and soldiered in a brutal war for 10 years.
"I now see that in the first half of our lives, we're really taking our places," Fischer reflected. "Coming to maturity can happen when we're 30 or when we're 60. Odysseus is a middle-aged person. Both of Homer's epics are about him. 'The Iliad' is when he comes of age, 'The Odyssey' is when he comes home. The whole idea of coming home is more characteristic of the second half of our lives."
Fischer's had his share of changes in six decades of living. In addition to being a published nonfiction author and poet, he was former abbott of the Green Gulch Zen Center for five years.
He's also a teacher, working with students and clients around the world since founding a nonprofit foundation, Everyday Zen (www.everydayzen.org). The organization's mission is to "share the Zen attitude, spirit, and practice with the world. It is dedicated to listening to the world, to changing it and being changed by it," as Fischer writes on his Web site.
With such a broad view of how Zen practice can catalyze human beings of every religion and in any profession, it's not surprising that what fascinates the always-busy Fischer about Odysseus is his humanity.
"He's a regular person. He screws up. He succumbs to egotism and lust. That's what makes it so great for describing the spiritual life of real people like us," he said.
"We're more like Odysseus than Jesus or Buddha. It's impossible to squeeze ourselves into the model of someone unreasonably good. But literature, especially when it's spiritually oriented, offers a more fruitful context for developing our own spiritual life. With 'The Odyssey,' we can see ourselves in it. Here's some poor schlemiel trying to get home. He's been to war and he's trying to come back and regain his household and his family."
Each chapter of "Sailing Home" takes a seminal event in " The Odyssey," and finds a parallel to how that incident might reflect something we would face today: The Cyclops adventure refers to the monsters within us and our egos; Circe points to seductions that distract us from our true intentions; Aeolus' loosened bag of winds could relate to hapless co-workers whose titanic mistakes may affect us adversely in our business lives.
It's all grist for Fischer's interpretive mill.
"In 'The Odyssey,' the conceit of the book is, we're all on a spiritual journey by virtue of the fact that we're all born, we all die, we're all trying to love and it's hard. It's hard to figure out what our lives are about," he said.
To make the book more than philosophy, Fischer offers concrete exercises at the end of each chapter that involve breathing, meditation, journaling and other techniques readers can do by themselves.
"What if we didn't have an idealistic hero and we read a text like the Odyssey as if it were a text on the inner life?" he continues. "My point is, we get so wrapped up in the stories of our own lives, what if we realized that our stories are just variations on a universal story?"
Jack Kornfield, author and Buddhist meditation teacher at Spirit Rock in Woodacre, believes Fischer's book "combines those elements of deep Zen wisdom and beginners' mind with these fantastic imagines from Homer to really help us understand our own lives. I find Norman to be one of the most wonderful, straightforward, deep yet ordinary and accessible teachers. I'm glad the book is coming out."
Fischer sees "Sailing Home" as part of a groundswell of publications, organizations such as his own Everyday Zen and individuals working to reframe what aging means in the 21st century.
"People who are 60 and older are retiring from careers and starting new careers with whole different characteristics than when they were younger," he said. "They're mentoring. They're becoming quieter, more reflective, more spiritual. I'm hoping our society will begin to see people at this stage of life as a resource. Wisdom isn't a concept automatically associated with age. But it is if you take the journey and do the work."
TO LISTEN
- What: Norman Fischer will read from "Sailing Home: Using the Wisdom of Homer's Odyssey to Navigate Life's Pitfalls and Perils."
- Where: Book Passage, 51 Tamal Visa, Corte Madera
- When: 4 to 5 p.m. June 15
- Cost: Free
TO LEARN
- What: Three-hour workshop based on the exercises and lessons in "Sailing Home."
- Where: Green Gulch Farm, 1601 Shoreline Highway, Muir Beach
- When: 2 to 5 p.m. July 6
- Cost: $20
- Information/registration: 383-3134 or go to www.sfzc.org/ggf