Book Review: The Boy King as Modern Mystic
by UDDALAK MUKHERJEE, The Telegraph of India, June 30, 2008
The Open Road: The Global Journey of the Fourteenth Dalai Lama
Author: Pico Iyer
Viking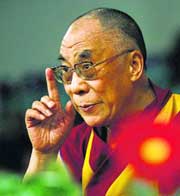 New Delhi, India -- The first time Pico Iyer met the 14th Dalai Lama in person, Iyer was 17 years old. He does not remember much about the meeting, save the fact that clouds swirled in and out of the room where he, his father and the Dalai Lama sat chatting. And in that misty half light, overlooking a vast, desolate stretch, Iyer remembers the Dalai Lama talking about notions of Emptiness and Reality.
It might have been Iyer's first encounter with the monk, but the Dalai Lama was no stranger to him. Iyer had grown up listening to stories about the Boy King — his birth in a cowshed in a remote Tibetan village, his discovery by the monks and subsequent transportation to a palace with a thousand rooms, his initiation into a school of Buddhism, his meeting with a hostile Chinese emperor, and his subsequent escape to India after his country was overrun by China. Much of Iyer's adult life has been spent in following him in his journeys made for speaking, across the globe, about his oppressed people and about a set of principles he calls 'global ethics' — to Nara in Japan, Vancouver, Los Angeles, Dharamsala and elsewhere. The Open Road is not a book rich in biographical detail. It is an examination of the Dalai Lama's work as a politician, scientist and philosopher.
To get to the man, though, Iyer resorts to a process of negation. What the Dalai Lama is, or stands for, can only be judged by knowing what he is not.
It is significant that Iyer writes about a particular peace meeting in Vancouver in 2004 that brought together Desmond Tutu and the Dalai Lama. (Shirin Ebadi was also there, but Vàclav Havel was ill and could not make it to the event.) The author seems to be keen to offer a comparative analysis of Tutu and the Tibetan leader, and it is not difficult to understand with whom his sympathies lie. Both men, Iyer acknowledges, bring with them the hopes of reconciliation and of a new order in place of a strife-torn world. But the Dalai Lama is traversing the more difficult path: while Tutu's battle almost has been won (the shadow of apartheid no longer hangs heavily upon South Africa), the monk is still on the road, pleading to the world to take notice of Tibet's plight. Elsewhere, Iyer writes that while Pope John Paul II travelled to offer doctrinal guidance, the Dalai Lama exults in the joy of simply meeting different kinds of people during his travels.
Iyer's fascination with, and fondness for, the Dalai Lama is evident. Yet, Iyer never allows himself to be overwhelmed by his charisma. He praises the Dalai Lama, but is unsparing when it comes to questioning his vision and policies. For the Dalai Lama, Iyer realizes, is a man who baffles as easily as he impresses. He has brought Tibet's misery to the world's attention but is seemingly wary of being over-critical of China's efforts to efface the essence of Tibetan culture from that ancient land. He advocates Buddhism and religion, but (like the Buddha, argues Iyer) cautions his flock against accepting faith uncritically. He is also considered to be the incarnation of a Tibetan deity, but never tires of reminding others of his own limitations.
Expectedly, the contradictions have led to the creation of doubt, despair, and even anger in some Tibetans. Iyer meets Lhasang Tseringat, for instance, at a quaint coffee-house in Dharamsala, who tells him, his eyes twinkling, that he wants "freedom in this world, not from this world".
So what is it that Iyer leaves us with? His Dalai Lama has many identities, each distinct yet bound to one another. In public, to his followers, supporters and critics, he appears contradictory at times. At other times, he is the chosen one, a spiritual figurehead who heals the world's infirmities. In private, he is a philosopher and an empiricist, unceasingly engaged in amending his scriptural beliefs so that they can be used in a changing world. He is also a mystic and a monk, who strives to balance an inner, esoteric, non-rational sphere of Tibetan Buddhism, a world of oracles and visions, with the outer sphere of texts, scriptures, training, initiations into specific orders and the ultimate quest for the answers to life's questions. In practice, he is what Iyer calls a globalist and a politician, experimenting to create a truly democratic and inclusive world-order.
Those familiar with Iyer's writing would know that he has broken new ground in The Open Road. Primarily a travel writer, here he sets about unravelling the private universe of a celebrated spiritual leader, while taking care not to be intrusive. Iyer brings his considerable knowledge of Buddhism to bear on his reflections on the Dalai Lama's thoughts and actions. What is also remarkable is Iyer's equanimity: he casts a critical eye on the monk without losing his objectivity.
He peels away the various layers of the Dalai Lama's persona and makes him appear human. How else can one explain the fact that a supremely gifted man, a mystic and a monk who bears on his shoulders the destiny of an exiled nation, can seldom resist the temptation of tugging at a ponytail whenever he sees one?