Ex-envoy pens book on Buddha
By YIP YOKE TENG, The Star, May 30, 2009
Kuala Lumpur, Malaysia -- DIPLOMATS are individuals appointed for peace missions and a book on peace penned by an ambassador who was in the profession for close to 30 years certainly carries weight.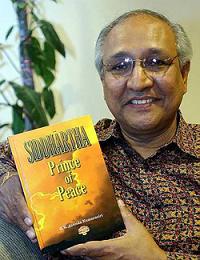 << Envoy-turned-author: Ananda with his book Siddhartha Prince of Peace.
More so when the book revolves around an icon known for centuries for his efforts in promoting peace — Prince Siddhartha, the Buddha.
There have been many books written about this great philosopher in history, but the author of Siddhartha Prince of Peace, Datuk Dr G. K. Ananda Kumarasiri, reckons that not many books regard the Buddha as an advocate of peace.
"We read depressing news in the newspapers every day, war and crime are happening everywhere.
"Peace seems so elusive, many have come out with efforts and suggestions on how to end war but none of these is working," he said in an interview with StarMetro.
The former director-general of Asean said one of the reasons was that man's understanding of peace was shallow as most were taught that war and peace go hand-in-hand.
"Peace in the real sense has nothing to do with war. One should find peace within oneself. If one is at peace, one has no problem with everybody.
"We achieve peace through the cultivation of a wholesome mind with the right values, attitude and thinking," he said.
To the 67-year-old, Prince Siddhartha was a role model for the world to see how mortals could bring peace.
"Here is a man who perfected himself spiritually through his aspiration, determination and confidence. It is the thought of "I will, I must, I can" that made him so great," he said.
The other side of this message is clear and positive — the goals of ordinary people are much more mundane than that of the noble prince and they can surely achieve them with the same attitude.
"I have been reading about the Buddha since I was small. I read more voraciously about him as I grew up but soon I felt that these books mainly narrated his life but had not looked at the lessons he experienced," he said.
He referred to classical sources, particularly ancient chronicles and scriptures recorded by elder monks, scribes and poets.
The works by Venerable Sri Dhamma entitled The Life of the Buddha and Sir Edwin Arnold, The Light of Asia, also inspired him to delve into the Buddha's unique character.
The book is meticulous, complete with maps and Sanskrit references for better comprehension.
Apart from being an adjunct professor at Universiti Utara Malaysia, Ananda is also an active dhamma speaker.
In addition to scrutinising and analysing Buddha's encounters, Ananda tried to live like him to understand the emotions he went through at different points of time.
"How did he feel when his son was born? What traumatised him when he saw the old man? I tried to look at these life experiences through his eyes," he said.
He said Prince Siddhartha was inquisitive; he asked questions and thus started to understand human beings.
The prince is not only his spiritual pillar, he is the guru for this diplomat who set up and headed the Centre for International Relations and Strategic Studies, and later appointed High Commissioner to Nigeria.
"My career is about trying to promote understanding, and he showed me the greatest devotion one can have in achieving that. If he can do such a big thing, I should be able to promote it in my own small way," he said.
Siddhartha Prince of Peace is available through Buddhist associations. For details, call 03-7958 4182/ 03-5631 5299/ 03-5634 8181.