Book Review: Living Well with Pain and Illness
by Chris Vaughan, Metapsychology Online, Jun 16 2009 (Volume 13, Issue 25)
Birmingham, UK -- This book is part biography, part philosophical treatise and part workbook. It is designed to run parallel with the courses that Burch runs but it also stands alone in its own right. It is a distillation of the lessons Burch has learned over the years of living and dealing with chronic pain and should be respected for that reason alone. But it is also to be commended for the clarity of its writing, its realism and its wisdom.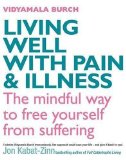 Thirty years ago Burch was the victim of a car crash which left her with permanent damage to her spine. The first part of the book tells of her mental struggle in coming to terms with her injuries, a struggle in its stages almost akin to grieving. At the end of this journey, she came to accept her condition, not out of passive resignation to its inevitability but as a positive act, whereby she was able to integrate the pain into her life and derive positive benefits from it.
She says that she does not claim to have mastered her reactions to chronic pain completely but she has learnt that every moment contains an opportunity for choice as long as she is aware, notices her unhelpful habits and stands firm against them. She says that gradually she is finding it is possible to experience a sense of creativity and freedom within the struggles of everyday life while living with pain.
She makes the distinction between primary and secondary suffering. Primary suffering being the actual unpleasant sensations in the body at any given moment and secondary suffering the myriad manifestations of resistance to those sensations that occur, physically, mentally and emotionally, often all at the same time. As you begin to distinguish between the two types, she says, you can unravel "the complex tapestry" of pain and resistance and clear a space in your head and heart. This allows you to change your relationship with your primary suffering and reduce the secondary suffering that goes with chronic pain.
The negative emotions that surround our pain -- the fear, sorrow, anger, anxiety - are understandable but can be the causes of additional pain in themselves. Paradoxically the more we attempt to flee our pain, to resist and resent it, the more it comes to dominate our minds and the more we become 'joined with' it and our reactions to it -- even fettered to it, she adds.
She outlines breathing techniques which allow you to stay in the moment and mindfulness practices which help you to capture the full subtleties of your subjective experience. She maintains that paying attention to a painful sensation allows you to investigate it, to explore its texture and to see it for what it is, rather than what you imagine it to be. Surprising discoveries may follow, such as finding that the sensations you identify as 'my pain' continually change. There may even be pleasant sensations or feelings alongside them. It is an opportunity, too, to examine the physical tension, the distressing and angry thoughts about pain or escapist fantasies and restlessness and how you may be feeling irritable, frustrated and upset.
The practice of mindfulness, she is keen to point out, can create an opening in the dense web of habits, a moment of choice that offers a tiny chance to make a new beginning in each moment by interrupting the usual cascade of reactions. She calls this the battleground of awareness because habitual impulses can be compelling and it takes courage to resist them but, she says, it is also the point of freedom in which you can find a key to living with joy confidence and creativity.
Burch spent five years at a Buddhist retreat centre but the book is not dogmatically Buddhist but cites other ancient traditions such as the Stoics who advocate a similar approach. She quotes James Joyce and the poet, Rilke. She also acknowledges a debt to Jon Kabat-Zinn. The centre piece of her system is her breathing technique which owes its provenance to certain forms of Buddhist meditation.
Accordingly, it is by putting our attention on our individual respiratory acts that we anchor ourselves in the present, this in turn helps us to become mindful or aware of what else is going on in our minds simultaneously -- feelings, thoughts, images -- all the distractions trying to pull us away from our body and the present moment, into the past or into the future. With constant meditative practice, she says, we can start to lead a more mindful life which means not identifying with these thoughts and emotions and above all with our pain. We are in control.
There is nothing esoteric about her approach and her techniques are easily accessible. It is, however, counterintuitive. Pain is there for a reason and is unpleasant for a reason -- to keep us away from hazard or to alert us to injured body parts, giving them time to heal. If we did not feel pain and try to avoid it, we would not survive for long. With chronic pain, however, we are in different territory and need a different mindset -- a different set of mental and psychological tricks.
Whilst Western medicine has been very successful in treating acute conditions, cures for our chronic ailments are proving more elusive. We are now having to come to terwith a growing population of people living longer, sicker lives and can hope only to manage these conditions. I can envisage a time when something similar to Vidyamala Burch's wise and humane teachings will become part and parcel of our treatment regimes.
The Mindful Way to Free Yourself from Suffering
by Vidyamala Burch
Piatkus, 2008