Northern California Book Awards Short-List "Songs For Tomorrow" By Ko Un
The Buddhist Channel, March 8, 2010
San Francisco, CA (USA) -- The Northern California Book Awards are one of the few in America to include literary translation. This year, "Songs for Tomorrow," collected poems in English by Ko Un (published by Green Integer), made the list of nominees, alongisde two others. This is by virtue of Gary Gach, co-translator with Brother Anthony of Taizé and Prof Young Moo Kim, residing in San Francisco.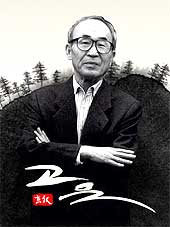 In years past, NCBA nominated other books by Ko Un translated by this trio: "Ten Thousand Lives" (also from Green Integer), and "Flowers of a Moment (BOA Editions, Ltd.), the latter having tied for winner's place with UC Press' "Three Way Tavern," a selection of poems also by Ko Un, translated by Claire You and Richard Silberg (UC Press).
Korean poetry is not yet widely known or appreciated in the West, compared to Chinese or Japanese, but Ko Un is a great example of modern Korean poetry, indeed known by many as the nation's unofficial poet laureate. One factor making translating his work doubly difficult is his facility at an amazingly wide range of genres and styles. As the introduction to "Songs for Tomorrow" states, to follow the major periods of his work is to see much of modern Korean culture and history encapsulated, a history wherein he's not only been eye-witness but also an activist.
The ceremony will be held April 18th at 1PM at the San Francisco Public Library.
Links:
San Jose Mercury News announcement
http://bit.ly/bWkutZ
SF Chronicle announcement
http://bit.ly/clvrTM
Northern California Book Awards
http://www.poetryflash.org/NCBA.html
Green Integer on "Songs for Tomorrow":
http://greeninteger.blogspot.com/2009/02/ko-uns-songs-for-tomorrow-now-available.html
A brief review of "Songs for Tomorrow":
http://www.koreatimes.co.kr/www/news/art/2009/12/142_42948.html
Wikipedia entry for Ko Un:
http://en.wikipedia.org/wiki/Ko_Un
2005 bio of Ko Un by Brother Anthony:
http://hompi.sogang.ac.kr/anthony/Kounbio.htm
A partial bibliography of incunabula with some online translations of and acrticles about Ko Un:
http://hompi.sogang.ac.kr/anthony/KoUnPublications.htm
Ko Un's website: www.koun.co.kr/
For more information contact:
Gary Gach
1.415.771.7793
H o m e p a g e : http://word.To