The Complete Idiot's Guide to Buddhism, 3rd Edition
Special Vesak Edition, The Buddhist Channel, May 28, 2010
Gary Gach's exquisite canvas on Buddhism covers almost everything you want to know about the religion, and in a light hearted way too
San Francisco, CA (USA) -- The greatest artist, they say, is one who is able to compress all great moments into a single canvas. Ditto the poet, who could conjure a description of the entire universe within a few lines.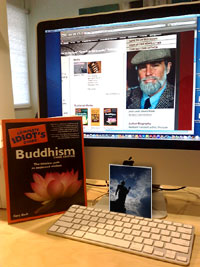 In the Buddhist literally world, few would argue that Gary Gach is that artist or poet (by the way, he is one himself. He does koan).
His latest book, "The Complete Idiot's Guide to Buddhism 3rd Edition" is his canvas and poetry on the Buddhist religion and philosophy. He is the perfect author for this sort of endeavor, and he accomplishes it exquisitely in a trademark easy-to-read format.
Gary, who has been involved in Buddhist study for 40 years, gives a thorough and sweeping overview of Buddhist history, teachings, ceremonies and practices, starting with who Buddha was and what Buddhism stands for, and leading to a clear and engaging discussion of the Four Noble Truths and the Eightfold Paths that underlie Buddhist thought.
With erudition and care, he also explains the major schools of Buddhism, such as Vipassana, Zen, Pure Land and Tibetan, outlining the rules and beliefs of each. In the latest edition, Gary covers greater depth in Interfaith understanding. He also explores the growth and development of American Buddhism, a unique animal of its own.
For those seeking more practical guidance, Gach brings Buddhism down to earth, teaching us how to cultivate its precepts in everyday life. Like a wise teacher, he dispenses advice on how to meditate (even at meals) and do yoga, what to eat, how to find the right spiritual teacher and/or community, where to go for pilgrimage and retreats, and countless other tips.
In this exclusive interview with The Buddhist Channel, he outlines his thoughts and reasons for coming out with this book.
What inspired you to write "The Complete Idiot's Guide to Buddhism 3rd Edition" and what is the primary take-away you want readers to get?
Good question, I'd never been asked that before, and never stopped to consider it myself, so I'd love to give it some thought. Right off, I'd say, BuddhaDharma is itself inspiring . It's that simple.
Plus, if you want to learn more about something, teach or write about it.
If anyone cared for a more detailed, historical answer, I'd say that for over 50 years I've witnessed causes and conditions ripening in the world at large for such a title.
That is, I remember when there usually wasn't one shelf in a bookstore for Buddhism, or even Eastern Spirituality. Back then, there were more Buddhas in America in glass cases in museums (statues) than living beings teaching and practicing the way. Now, it's accepted in the mainstream. In fact, a recent poll found one in eight Americans affirming they've heard teachings of the Buddha which they consider of lasting influence in their lives. That's really interesting. So people don't have to formally say their Buddhist to appreciate the Buddha, any more than one has to say one is an Einsteinian to accept the theory of relativity. So even if Buddhism, per se, might never become a mainstream religion in the West, its influence is mainstream.
I have no particular take-out message. That's up to each reader. A book is an interactive experience. My aim was to clarify misconceptions, spell out the basics, provide an overview of the forest as well as the trees. In presenting this on many levels at once, newcomers and practitioners alike might each come away with something new and useful. So if readers close the book and take away just one or two key insights, that could be wonderful. (Touching any one deeply leads to all the others.)
It could be awareness of the nature of needless suffering. Learning to let go. Being more present to one's life, more intimate with life itself. Cultivating simple virtues of responsibility, communication, generosity, and so forth. Being kind to one's self and others. Or even practicing Mouth Yoga (lift the corner of just one side of the mouth, and take a few breaths).
The book is really a very detailed guide on Buddhism. How long did it take you and what were the challenges you faced while writing the book?
Another good question. I'd begun two years before signing an actual book contract. From another point of view, it reflects some +50 years of study. One of the biggest challenges: can anyone say "What All Budhists Believe"? For instance, some schools have five precepts, others ten. You can also say there are 16, or 58 ... So how to present the precepts, fair and square?
Fortunately, here is this highly structured format at hand, in all the Complete Idiot's Guides, with which I could be comprehensive (as well as, hopefully, comprehendable). Hopefully, without bias, yet speaking from and to personal experience; not anything abstract.
After all, His Holiness the Dalai Lama doesn't lecture about Zen. Jodo Shinshu doesn't talk much (if at all) about Insight Meditation. And so on. Yet aren't all forms ultimately one? Even if we might see and appreciate that through diversity.
I'd noticed a pan-Buddhist trend in the Buddhist Channel, by the way. This affected me quite strongly. So here I see the recognition coming from a completely other corner of the universe than mine. The Channel isn't a Pure Land channel, or a Ch'an channel — a Varja channel, or a Lotus Sutra channel, etc. — but is a channel for the mahasangha (which ultimately includes all beings). Since I began the project, Buddhist teacher Joseph Goldstein came up with the term "One Dharma," quite appropriate for this view.

Your reason for outlining the four aspects (Buddha, Dharma, Sangha and Buddhism in Action) in your coverage of Buddhism.
For those who haven't seen the book, it's in four parts, but it really falls into two halves. The first half is "living Buddhism," with subsections on Buddha (life, promulgation of his teachings, interfaith, reception in the West), Dharma (outline the Triple Gem, the Four Noble Truths, the Eightfold Path, precepts, wisdom teachings), and Sangha (communities of practice). The second half is devoted to a half-dozen-or-so chapters applying all this to various walks of life: relationships, livelihood, food, arts, sciences, society. So, if that answers your question, the two halves balance each other.
The language used at times is personal and light hearted. Was this intended to make this book accessible to a non-Buddhist and non-academic audience?
Absolutely. That's another reason I was glad to make it a Complete Idiot's Guide, which are known for their light touch. And so much of the practice is based on personal experience, how could I not include my own? But I didn't intend it to be a memoir, or my personal "brain dump." Nor an academic survey, altho' it has proven successful in colleges and temples as a tool to teach.
By the way, do you know what author G.K. Chesterton says as to why angels can fly? — Because they take themselves lightly.
Did anything changed since you wrote the earlier two editions?
Each edition was revised by at least 1/3, as well as updated. Since the first edition, we've seen relevant discoveries in the cognitive sciences, significant cultural landmarks, and a differing economic and geopolitical outlook.
You have allocated an entire chapter on Interfaith. How do you see Buddhism as an integral part in fostering understanding amongst the major religions?
Interfaith is of growing importance and interest in our world, and is perhaps crucial. Certainly Buddhism seems compatible with various cultural beliefs (or nonbeliefs). It's also the first world religion, having broken out of its confines of geography, language, and culture. As such, it has a venerable tradition of welcoming different paths and creeds, such as we find under King Ashoka.
I know this as true for myself. BuddhaDharma has watered my own Jewish roots, and extended my wingspan, as it were. Through it's lucidity of insight, I've also gained greater understanding and respect for other paths: Christianity and Islam, for instance, and indigenous spirituality.
As for fostering understanding amongst major religions, the Buddha way has much it can offer: teaching us to be able to sit together in silence and feel beyond words a common bond ... deeply recognizing our interconnectedness ... making available the practice of bearing witness, of listening to another's experience without judgment, and hearing what's not said as well as what's said, and learning to respond from the heart ... upholding the Middle Way, steering clear of any extreme views ... nurturing the development of awakened wisdom and a compassionate heart ....
You have covered a lot - from the arts and archaeology to the use of technology and "Green Buddhism", from all four traditions. Do you feel you have done enough to cover the whole spectrum of Buddhism to show that it is relevant today as it was in the past and in the future as well?
If it's relevant today, in this present moment, right now, then it's relevant to the future. And that recognition carries forth the vitality of our ancestors as well. Maybe one crazy mouth isn't big enough to tell it all. But hopefully enough is enough.
------------
The Complete Idiot's Guide to Buddhism, 3rd Edition
by Gary Gach, 2009
Get it from Amazon: http://www.amazon.com/Complete-Idiots-Guide-Buddhism-3rd/dp/1592579116/ref=dp_ob_title_bk/189-4368362-2827630
Get to know Gary Gach:
http://community.tricycle.com/group/tricyclecommunitypoetryclub/forum/topics/haiku-corner
http://www.patheos.com/Religion-Portals/Buddhist.html
http://word.to
The Buddhist Channel - Donate to Support Our Work
An Appeal

In deep gratitude for your support! We are half way to meeting our target (US$ 10,400 of US$ 18,000 already achieved)!
The Buddhist Channel is a dedicated group of "mindful communication practitioners" striving to make a positive impact on the Buddhist community. We deeply believe in the power of mindful journalism and are reaching out to you with a heartfelt request for your support. Your donation, no matter the size, can make a tangible difference in the lives of countless Buddhist monastics, local communities and other dedicated engaged workers. With your help, we make their stories known, and thereby opening up avenues for them to obtain sustainable support for their work.
Please indicate whether your support will be a donation or a loan. We will get back to you via email. We thank you in advance for providing us financial relieve. May the Buddha Dharma ever be your guide and protector.

Note: To date, we have received the following:

US$ 900 from Esa Myllykoski (donation)
US$ 9,500 from Lance Edwards/Kau Soo Kin (loan)

We express our deep gratitude for the support and generosity.
If you have any enquiries, please write to: editor@buddhistchannel.tv