A Pocket Full of Zen
The Buddhist Channel, July 5, 2010
New York, USA -- In his new book, Pocket Peace: Effective Practices for Enlightened Living (Tarcher/Penguin, February, 2010), Allan Lokos, founder and guiding teacher of the Community Meditation Center in New York City, offers a blueprint of simple exercises based on the 10 "Paramis," or Perfection Practices, described in Buddhist philosophy.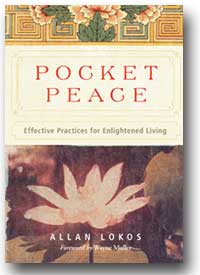 Lokos beautifully articulates these great spiritual teachings and distills them into concentrated dosages to address the realities of everyday life. He skillfully weaves together rich learning moments from his own life experiences with enlightened, yet profound lessons on virtues such as generosity, patience, loving kindness, and truthfulness.
Lokos provides action steps to help you become more kind, compassionate, and generous. For example:
To help you focus less on the material aspects of life… Lokos recommends that once or twice a y ear you go through your belongings, choose one item that you love, and give it away to someone else. Letting go can be purifying. (p. 67)
When you're having "one of those days" and everything tries your patience… Find a place where you can feel completely at ease and say to yourself, "Only I can destroy my peace and I choose not to do so." (p. 124)
When it feels like life is flying by in a flurry of activity… Turn off the computer follow Lokos's outline for a personal one-hour retreat. Use this quiet time to build an awareness of your thoughts and of everything going on around you. (p. 109)
Lokos, the founder of the Community Meditation Center in New York, was inspired to write POCKET PEACE after giving a spontaneous assignment to the members of his center. He told them, "For one week, keep five one-dollar bills on hand and give them to anyone who asks for help, no questions asked. In addition, give that person the gift of your attention, even if just for a minute, and listen to what they have to say."
When the week was over, Lokos received astonishing feedback. Some participants called the experience "life-changing"; others said that they learned not to fear the homeless or judge people prematurely; and many decided to keep up the practice. Motivated by witnessing the tremendous good that could come from such a small act, Lokos decided to share his approach and more tips with a broader audience in POCKET PEACE.
Beautifully written and incredibly effective, POCKET PEACE combines Lokos's poignant personal stories with practical advice—making it an irresistible read and an invaluable road map for those looking to reduce their anxiety, improve their relationships, and lead more peaceful, joyous lives.
ABOUT THE AUTHOR
Allan Lokos is the founder and guiding teacher of the Community Meditation Center in New York City. On the road to becoming a meditation teacher and author, Lokos enjoyed a 30-year career as a professional singer on Broadway. He has practiced meditation since the mid-nineties and studied various Buddhist traditions with renowned teachers such as Sharon Salzberg, Thich Nhat Hanh, Joseph Goldstein, Andrew Olendzki, Stephen Batchelor, Yongey Mingyur Rinpoche, and Tsoknyi Rinpoche. Lokos has published numerous articles and been a contributor to Tricycle magazine. He lives in New York City. To learn more about Allan Lokos and Pocket Peace, please visit: http://www.cmcnewyork.org/.
More Praise for POCKET PEACE
"In Pocket Peace, Allan Lokos walks us through the world, asks us to pay attention, stay awake inside and out, and fills our pockets to overflowing with small, good things to do."
- from the foreword by Wayne Muller, bestselling author of
Sabbath: Finding Rest, Renewal, and Delight in Our Everyday Lives
"Pocket Peace is a book of little gems for great progress."
- Judy Collins, singer/songwriter and author of The Seven T's and Sanity and Grace
POCKET PEACE
Effective Practices for Enlightened Living
by Allan Lokos
Tarcher/Penguin, Publication date: February 18, 2010
Paperback/.95 / .50 CAN • 240p • 978-1-58542-781-9