Russian children have fun learning about His Holiness the Dalai Lama!
Tibet Custom, August 31 2010
Dharamshala, India -- It will be a great fun for children to have comics for reading to learn about the remarkable life and personality of His Holiness the 14h Dalai Lama.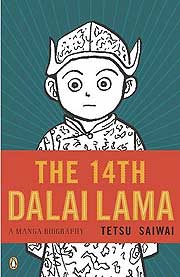 The novel idea is set to be introduced in the Buddhist community of Kalmykia Republic in Russia, where the children will get to read a biographic novel about His Holiness the 14th Dalai Lama written by renowned Japanese cartoonist Tetsu Saiwai.
Saiwai's comics of His Holiness has been translated into Russian and other 9 languages. A total of 1,500 books were made available to children in Kalmykia under the joint initiative of Moscow based Save Tibet Foundation and Kalmyk Japan Friendship Association.
In his "BioGraphic Novel "The 14th Dalai Lama", Saiwai used the art of classic manga (Japanese graphic novel or comic book) to illustrate the biography of His Holiness the Dalai Lama.
After conducting intensive research in Lhasa, Tibet, Saiwai was able to capture unique and stunning images of Tibet and its people as they struggle to survive and face the threat of the extinction of their language. These images are all connected through the true life events of His Holiness the Dalai Lama, their spiritual and political champion.
The novel was released to mark the 73rd birthday of His Holiness the Dalai Lama on 6 July 2008
Saiwai has published numerous comic books to promote environmental protection and human rights.
The writer has future plans to feature the life histories of many iconic personalities such as Jesus Christ, Mahatma Gandhi, Martin Luther King and Mother Teresa.