Local Buddhist metal band Chok Ma find a groove in spiritual awareness
by Rachel Mok, South China Morning Post, Jan 8, 2014
Buddhist metal band Chock Ma augment their sound with ancient instruments.Rachel Mok gets her karma boosted
Hong Kong, China -- Chock Ma are not your average headbangers. During the band's rehearsals, you can hear instruments such as the didgeridoo, an indigenous Australian wind instrument, and a mouth harp, an ancient instrument popular in Southeast Asia.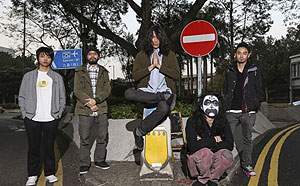 << In their search for an enlightened sound, Chock Ma searched the streets and found a heavy groove in spiritual awareness and environmental issues. Photo: Sam Tsang
The mouth harp is played by Chock Ma vocalist Jason Lau Chun-ho, and the didgeridoo belonged to a Japanese busker Lau met in Perth last year, during a working holiday in Australia.
Using ancient or ethnic musical instruments is nothing new for the five-piece band. Erhu, pipa, hulusi and a Tibetan singing bowl have all featured in their live sets, thanks to Lau's interest in sourcing traditional instruments from all over the world.
Chock Ma started out in 2003 as followers of nu metal bands like Korn, Slipknot and Deftones. Over the years, the band's music has evolved into a blend of progressive metal and post-rock, with a touch of traditional Chinese music. The band went into hibernation for two years when Lau left for a working holiday in Australia, and guitarist Tsui Chin Hung went to study guitar at the Musicians Institute in Los Angeles.
Both musicians have returned to Hong Kong, and Chock Ma is active again. The outfit made recent appearances at Clockenflap, and the Street Music concert series curated by Kung Chi Shing.
The band is due to release its debut album this spring, with a Chinese title that literally translates as "Expose the Nature from Inside". In English, they have called it Dharma Bums, borrowing from a 1958 novel by Beat writer Jack Kerouac.
Both titles hint at the Buddhist ideas that underlie the band's music. Lau and guitarist Emad Yau Wai-kuen have converted to Buddhism. But rather than being a religion, they view Buddhism as a way of thinking.
We just want to spread some positive energy to our listeners
JASON LAU, VOCALIST
That's evident in tracks like No Escape, which has poetic lines like "When the rivers and lakes are barren and dry/ when the tallest mountains seem lifeless and bare/ when the sky is filled with dust and terror" lines that sound like they are preaching environmentalism.
But to the band, it's all about karma. "We have done so much harm to the earth. I am not teaching the audience to do anything. Rather, I hope they realise that whatever we do today will make us suffer in the future," says the vocalist, who penned the lyrics.
Lau says the Zen thinking in the songs comes naturally: "It is like a language I speak. If I was a Christian maybe I would use Christian terms to convey my message. It just happens I am a Buddhist. We just want to spread some positive energy to our listeners."
To remain true to their beliefs, the band have started a "seed project" before the March release of the physical CD.
They will perform a "seed release" show at Kwun Tong live house Hidden Agenda this month, when every member of the audience will be given a bag of lemon grass seeds supplied by Mapopo Community Farm. Those who pre-order the album will get a capsule pot (a mini-garden in a capsule) which is sponsored by eco-green product developer Greenamic.
Band members have started sowing seeds, and are sharing their progress with fans on Facebook. The idea is to organise free outdoor concerts when the album is released so that fans can gather and share their "harvest".
"If you don't do anything, a seed will just stay a seed. But with some sunlight, water and some caring, it becomes a life," says Lau, who wants to give more to the audience than a show and an album.
"Maybe not everyone will get this, but I hope the idea of 'karma' will enter their hearts. When there is goodwill, good things will happen," Lau adds.
To Yau, a vegetarian, the seed project is also an effort to provoke thinking on where our food comes from, given that some studies suggest much of the world's carbon emission is created by livestock.
"So in general eating less meat is good for the earth. I wish people can get a feel of our relationship with the nature. After all human beings used to live in wilderness and it is in our nature," Yau says.
Chock Ma highly conscious of their local identity, and insists on writing songs in Cantonese."We were born and raised here, and we love our city. We express what we feel from living here," says drummer David Kwok Kin-hei.
The song Born Together - Reared Apart seeks to explore the sociopolitical landscape that exists between Hong Kong, Taiwan, and the mainland.
"On the surface, we just want to say that it is the system that goes wrong, not the people," bassist Leung Kong-wai says. "But deep down what we really want to express is that we are all human, and we are all equal. That's what we believe in."
Musicians - especially street performers - are not treated very well in Hong Kong, Lau says. He had been amazed how street performance was appreciated in cities such as Melbourne, and decided to go busking full time, playing his erhu, after he returned early last year.
"Busking is a decent job over there, you can have a house and raise your kids doing it," Lau says. "And they also treat you as an artist. But in Hong Kong, people do not understand your choice of work, and look down on you."
Chock Ma aspires to take their unique East-meets-West sound out of Hong Kong.
"I wouldn't say we want to represent Hong Kong music, but we hope when people outside Hong Kong hear us, they will be shocked to learn there is music like this here," says guitarist Yau.
------------
Dharma Bums seed release show, Chock Ma, Jan 11, 8pm; Hidden Agenda, 2A, Wing Fu Industrial Bldg, 15-17 Tai Yip Street; ,tickets: HK$130 advance, HK$160 walk in.