Musicians to take the stage in conjunction with Wesak
by Christina Low, The Star, May 29, 2014
Kuala Lumpur, Malaysia -- MUSIC lovers are in for a treat this weekend as a host of local musicians have teamed up for a special performance titled Addhana - The Musical Journey Continues.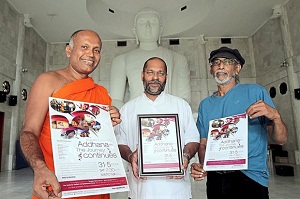 << Special performance: (From left) Saranankara, Visvanathan and JD Menon showing posters of the musical
The musical is held in conjunction with Wesak Day, hence most of the songs will be related to the teachings of Buddha.
Among the performers who will take the stage at the Matic Hall this Saturday are Messengers of Dhamma, Big Chips Choir, Wayfarers, iGemz, JD Menon, seven-piece band AkashA, Tan Huat Chye as well as organiser M. Visvanathan.
A lawyer by profession, Visvanathan said singing and performing had always been a hobby.
"Growing up in Malacca, I used to go to the Seck Kia Eenh temple in my hometown, which is also popular for its performing arts," he said, adding that he had not given up the "hobby" despite his hectic work schedule after moving to the city.
The 48-year-old had always kept his dream of having an album to his name. So when the opportunity to work with popular producers such as Greg Henderson and Paul Moss came, he did not put it to waste.
"Singing has always been a part of me since young, I started singing in the temple when I was 16," he said, adding that the musical was named as a continuation of his last album titled Addhana, Musical Stirrings from the Heart.
Addhana, he said, was a Pali word which meant "the journey", hence the journey of his music continues on a different note with his friends.
His first album was recorded and produced in 2002. Since then, he has seven albums under his belt where he not only sings but also writes the lyrics for most of his songs.
He will be singing six songs with his sons as well as his friends, while actor and producer JD Menon will be up on stage entertaining the audience with his stand-up comedy act.
The musical will begin at 7.30pm with a short video presentation from the former Chief Monk of Malaysia and Singapore, Venerable Dr K. Sri Dhammananda Nayaka Maha Thera, followed by various acts for the evening.
Baba Nyonya comedians Simon Tan and Aaron Too will be entertaining the crowd with their antics as well as acting as the emcees for the show.
"There are various methods to spread the love of the Buddhist religion whether it is through books, singing or cultural performances.
"Some young people do not like meditation but enjoy performing in plays or singing songs because they can relate to it, so we must encourage them," said Sri Lanka Buddhist Temple chief monk Venerable B. Sri Saranankara Nayaka Maha Thera, adding that the musical was a stepping stone to encourage more youngsters to share their talents.
Saranankara said the music also has beautiful messages for the audience and the young should learn to appreciate it, and hopes to mould them into better performers in the future.
Entry to the musical is by donation. Proceeds will be donated to Sri Lanka Buddhist Temple's Yayasan Maha Karuna-Maha Sangha Fund, which allows monks to further their studies in languages, psychology and counselling at private universities.
The contribution will also benefit the Upekkha Welfare Compassionate Home in Cheras, Kuala Lumpur.Those interested can call the temple at 03-4041 9459 for tickets, or to donate to the cause.