Bored by the old mantra, Asian youth need new Buddhist hook
by Kalinga Seneviratne, The Nation, May 20, 2016
Singapore -- While the Buddha's ideas are fast being adopted in the West as part of a 21st-century secular lifestyle, in the East the young generation is increasingly distancing itself from its Buddhist heritage.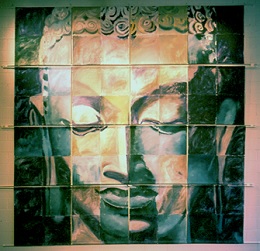 As we mark Visakha Bucha Day, the question of how to make the dharma look fresh, vital and "cool" to young urbanised Asians has never been more urgent.
Earlier this month, young musicians from Malaysia and Indonesia joined local counterparts in Singapore to point a way forward, staging "Sadhu for the Music" at the Esplanade arts centre. The two shows on May 4 and 5 were sold out.
The traditional method of having youth visit temples and listen to the dharma no longer works, argues Wilson Ang, president of the Buddhist Fellowship of Singapore, which organised the concert in collaboration with its Malaysian and Indonesian counterparts. The show was directed by internationally acclaimed Malaysian singer-composer Imee Ooi.
Statistics show a decline in interest for Buddhism among Singapore youth, notes Ang.
"That caught my attention and I wanted to see how we might capture the interest of this younger generation, as well as 'nominal Buddhists'," he explained.
"Every youth today carries a cellphone and uses it to listen to music or watch movies. So we could see music as a gateway to reach youngsters via the new media."
Buddhists in Asia have witnessed the power of Gospel Music to attract youth in the region to Christianity in large numbers. Heeding that power, "Sadhu of the Music" employed a Gospel-style presentation to deliver well-crafted lyrics of Buddhist ideas and even chants from the sutras. The young performers sang in English, Mandarin and Bhasa Indonesian, while the dances blended East and West with ballet, break dance, kung fu and tai chi.
"Buddhists are more inward-orientated while Western Christians more expressive in their religious activity [so] they are well ahead of us," said Ooi.
"The world has changed and youth are now very much connected with the wider world. Their tastes are different and if you want them to relate to religion you have to do it their way."
Ooi detects a growing popularity for Buddhist music across Asia but says the movement needs to more collaboration and networking.
"They are all disconnected. Someone might look at me and say, 'Oh, Buddhist music has gone international [but so far that's not the case]".
Singapore is not the only country experiencing a dramatic drop in the number of young Buddhists. A similar trend is being witnessed in South Korea and Japan.
Last year, the Japan Policy Council predicted that 40 per cent of the 77,000 Buddhist temples in Japan could be closed by 2040. It warned that with young people increasingly seeing the religion as cheerless and associating it with funerals, the bond between the temple and the community was fading.
In July 2014 Korea's Jogye Order offered hope with a Buddhist prayer competition at a Seoul temple, where a group of brave young nuns gave a rap performance of the Heart Sutra. The YouTube clip quickly went viral.
Meanwhile Nepal-born nun Ani Choying has become perhaps the first global Buddhist "pop star". She performed twice to packed houses at Singapore's Esplanade last year, where her chants accompanied by explanations in English gave a fresh twist to the dharma.
The threat to Buddhism in Asia may be coming from the inside rather than the outside. One of the biggest drawbacks Buddhist musicians face is the lack of funding for cultural activities. Asians are far more willing to donate funds to build grand temples or huge Buddha images.
Renowned for conservatism, many Asian Buddhists shun the use of music in propagating the religion, fearing it will dilute the traditional monastic chanting in traditional Pali, which few understand today. Singing the sutras in contemporary languages remains taboo.
Hence it is no wonder that most young Asians view Buddhism as a set of opaque rituals whose meaning even their parents can't explain.
Meanwhile, Buddhist temples have sprung up across the United States, Europe and Australia in the past two decades. Mindfulness, based on vipassana meditation and at the very root of Buddhist teachings, is today a huge trend in the US. Yet in Asia, young people are unable to tap these Buddhist teachings for the wisdom and guidance they offer amid the frantic chase of our consumerist society.
Ang believes that drawing Buddhism into the sphere of popular culture could reverse its decline among Asian youth.
"Hopefully we can inspire the youth in many ways, encouraging them to go deeper [and] then see them enter the mainstream [temples] and learn dharma and cultivate meditation."
-----------------------------
Kalinga Seneviratne is a Sri Lanka-born Buddhist who teaches international communications at Nanyang Technological University in Singapore.