Expose north-east music to world: Lama Tashi
The Hindu, Feb 4, 2006
Lama Tashi is the first Buddhist monk to receive Grammy nomination for solo performance
GUWAHATI, India -- Geshe Ngawang Tashi Bapu (aka Lama Tashi of Bomdila) of the Tibetan Monastery, who has been nominated for this year's Grammy Awards, said on Wednesday that traditional music of the north-east should be exposed to the world audience.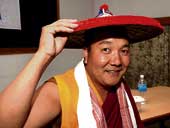 << Lama Tashi
Geshe Tashi, who has become the first Buddhist monk to have received Grammy nomination for solo performance, said more and more people of the western societies were looking for traditional culture as they were tired of the busy modern life.
"The traditional music of north-east can also be taken to the same height if someone works hard and with utmost sincerity," he said. Like the Tibetan monasteries in Arunachal Pradesh there are Vaishanavite monasteries, which are more than 600 years old and still practise traditional devotional music.
Lama Tashi was here on his way to Delhi from where he is to fly to Los Angeles via Washington on February 3 for the awards ceremony. He has been nominated for his musical album Tibetan Master Chants in the "Best Traditional World Music."
He, however, said that getting a chance was equally important for having the traditional music nominated for Grammy Awards. "I got a chance when I was chosen as one of the monks of Drepung Loseling Monaserty in Karnataka to undertake a world tour sponsored by the Loseling Institute, U.S., and the Richard Gere Foundation and perform the chanting. I simply converted the chance into an opportunity," he added.
The 38-year old monk is the Principal of the Central Institute of Himalayn Culture Study located at Dahung in Bomdila.
His album comprises 12 popular mantras or religious hymns of Tibetan Buddhism, including "Om Mani Padme Hum."
It features the sacred deep voice chanting of Lama Tashi, one of the world's foremost Tibetan chant masters. The CD was produced by Jonathan Godman, an award winning artist and author of Healing Sounds.