Buddhist Teacher Releases Meditation CD for Busy People
PRWEB, February 7, 2006
Bodhipaksa's "Guided Meditations for Busy People" gives people tools that they can bring into daily life.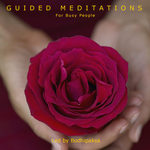 Newmarket, New Hampshire (USA)
-- Want to learn meditation, but stressed about finding 30 minutes in your packed schedule? A new CD from Buddhist teacher and author Bodhipaksa may be just the thing for you. With Bodhipaksa's "Guided Meditations for Busy People," anyone can find time to meditate. Most of the nine meditations on the CD are around eight minutes long, and the shortest is only three minutes, meaning that even the busiest person can find the time to de-stress.
Bodhipaksa explained that he made this CD in response to demands from potential students. "Many people told me that they wanted to learn meditation but found it stressful even to think about taking 30 or 40 minutes out of their schedule, so I decided that this was an opportunity to create meditations that can be done in just a few minutes," he said.
Bodhipaksa provides fully guided meditations with clear and detailed instructions. These meditations would be ideal for any skill level from beginner to expert. The meditations on the CD are all adaptations of traditional Buddhist meditations, although you don't need to be a Buddhist to benefit from them. "Breathing in, breathing out" is a compact version of a common meditation known as mindfulness of breathing. "Interconnectedness" is a nine-minute meditation that connects you with all living things, while "Protected By Light" surrounds you with an aura that can protect you and those you love.
One aim of the CD is to give people tools that they can bring into daily life. "Meditation is a set of skills and approaches to life that you can put into practice at home, at the office, or while traveling," Bodhipaksa explains. "When you realize that you're becoming stressed, you can, for example, visualize yourself protected by an aura of light. From the outside, no one would even know you were meditating."
Reactions to the CD have been very positive. "I was so pleased by Bodhipaksa's voice," and "I found myself relaxing immediately," are typical comments. Terri Trespicio, associate editor of a well-known spirituality and health magazine, was impressed by Bodhipaksa's soothing Celtic burr. "The Scottish accent doesn't hurt!" she said.
Bodhipaksa has been practicing meditation since 1982 and has been a member of the Western Buddhist Order since 1993. Born in Scotland, he now lives in New Hampshire. He leads meditation courses internationally, and also teaches online at www.wildmind.org. He is the author of "Wildmind: A Step-by Step Guide to Meditation," and of a number of highly successful guided meditation CD's.
Meditation for Busy People is available for purchase at www.wildmind.org , a website dedicated to the practice of meditation, as well as on Amazon. Wildmind, a nonprofit organization founded by Bodhipaksa, aims to benefit the world by promoting awareness and compassion through the practice of meditation, and offers an extensive online guide to meditation as well as running online meditation courses, publishing meditation CD's, and teaching meditation to inmates at the state prison in Concord, New Hampshire.
Contact:
Steve Cardwell
Wildmind Meditation Services
177 Main Street
Newmarket, NH 03857
603-659-3800