Duncan Sheik's "Spring Awakening"
By BEN SISARIO, New York Times, February 26, 2006
New York, USA -- Duncan Sheik has one instruction for the singers in "Spring Awakening," his musical adaptation of the Frank Wedekind play, which will be presented by the Atlantic Theater Company beginning in May.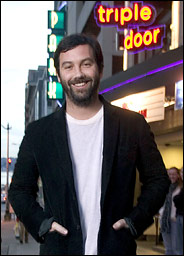 << Duncan Sheikh - Peter Yates for The New York Times
"I keep saying to them, imagine that you're Thom Yorke," he said. "Imagine that you're a young David Bowie. Imagine that you are Fiona Apple. And please forget about all the vocal training you've ever had."
Mr. Sheik, who has built a career with delicate and sophisticated adult pop, is not the first songwriter from the pop world to write the music for a major theater production. But with a sudden rush of works for the stage — besides "Spring Awakening," his "Nero (Another Golden Rome)" is at the Magic Theater in San Francisco and "The Nightingale" is being workshopped — he is making a bid to take the rock musical out of the boomy style of "Rent" and "Mamma Mia!" and into what he considers the more expressive territory of contemporary alternative and indie rock.
" 'Spring Awakening' is very sincere," Mr. Sheik said by cellphone from Portland, Ore., where he was on tour promoting his latest album, "White Limousine." "It deals with the most intense feelings you can have as a young person. It's more about expressing something that is from the deepest part of your soul, as opposed to 'let me entertain you tonight.' "
Wedekind's play, a candid portrayal of the sexual growing pains of a group of teenagers, caused a scandal when published in 1891. Its rawness is what has kept it influential. In adapting the work with his longtime lyrical collaborator, Steven Sater, Mr. Sheik said he strove to preserve adolescence's sense of struggle and awe. (Mr. Sater, who had worked on theatrical productions before, was the one who first suggested they try writing a musical.)
"Spring Awakening" began its workshop life in 2000 and was to be part of the Roundabout Theater Company's 2002-3 season, but it was dropped in that company's post-9/11 budget crunch. The show had a concert performance at Lincoln Center last year with the help of the actor Tom Hulce, and only now is it getting a premiere by the Atlantic — the company's first musical — in a production directed by Michael Mayer.
With ethereally mellow songs like "Barely Breathing," which was nominated for a Grammy eight years ago, Mr. Sheik, 36, may not be the first name that comes to mind on the subject of hormonal teenage angst. But as a devoted Buddhist, he said, he strives to thread sufferings and salvations of all kinds into his music.
"Buddhism deals with all aspects of the human condition," he said. "We're always shuttling through different states of life" — from love to pain, anger to shame.
On "White Limousine," joy and peace are tough to find amid endless cynicism and corruption, and in "Spring Awakening" the characters are guided by sensation to explore themselves and one another. "Touch me," cries one character, Melchior, over a stark but sparkling guitar line that would not be out of place in a Coldplay or Radiohead song. "God, that's heaven."
"I think that rock 'n' roll is and should be about that deep part of your soul," Mr. Sheik said. "That's what rock 'n' roll should absolutely be."