iGemz releases second album 'Rainbow of Blessings'
By CHRISTINA LOW, The Star, May 22, 2010
Petaling Jaya, Malaysia -- IT WAS five years ago when i.gemz first released their much awaited album. Since then, the young Buddhist group looked as if they had not stopped strumming or singing in chorus.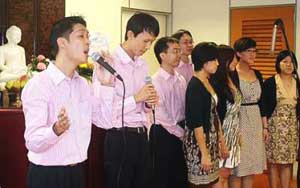 << In action: The i.gemz group performing for invited guests during the launch of their second album at the Buddhist Gem Fellowship centre recently.
Inspired by this, the 10-man group led by Khoo Nee Sern, continued working hard and writing new songs even though none of them had ever attended voice training (vocal classes) before.
"The only practice we have is by singing among ourselves but the thought of recording came suddenly as we all wanted to try out something new then," said Khoo.
Their first album Cradled in Buddha's Arms became an instant hit among English-speaking Buddhists. Their songs were sung widely in Dhamma camps, international Buddhist concerts as well as at hymn singing competitions.
A few years after their inaugural debut and success in the industry, the group returned to the list of songs they had written and compiled.
"With 16 songs in hand, we thought why not start recording our second album now before we lose our momentum," said Khoo after the launch of their second album Rainbow of Blessings recently.
For the new album, the group had chosen 11 songs.
All the songs featured speak about the different aspects of Buddhism from the importance of spiritual friendship, meaningful companionship, the practice of Buddha's teachings and being thankful for all the blessings received.
The variety of musical genre in the songs also range from pop, hymnal to country and bossanova.
Khoo said the group practices tirelessly on their own and also make it a point to visit Buddhist Gem Fellowship president Datuk Dr Victor Wee for guidance at least once a week.
"He will make sure we get our pronunciations right, control our emotions and breathe correctly before we record a particular song," said Khoo, whose team practised for nine months at Wee's home whenever time permits.
The 30-year-old said he was thankful to have such a dedicated team and the chance to work with producer Greg Henderson again for the second album.
"Greg can be pretty strict sometimes, but we are grateful of having him guiding a bunch of amateurs like us," said Khoo, who is a telecommunications engineer by profession.
The new album also features Buddhist speaker and lecturer Vijaya Samaravickrama on the first song I Feel at Home which was inspired by the serene viharas of Subang Jaya Buddhist Association and the Sri Lanka Buddhist Temple.
Other songs on the new album include I'll Be There For You, Good Action, Warmth, Bodhi Tree, Rainbow, Blessings and You Showed Me The Way which was dedicated to the late Chief High Priest of Malaysia and Singapore, Venerable Dr K. Sri Dhammananda Nayaka Maha Thera.
Rainbow of Blessings is priced at RM25 each at Sukhihotu outlets.
Watch the making of "The Rainbow of Blessings"