Holiday destination: Afghanistan's Bamiyan
By Angie Ramos, reuters, April 13, 2005
Shahr-i-Gholghola, Afghanistan -- It is eerily quiet in the ruined hilltop fort as two Afghan soldiers, guarding against artefact thieves, look out on the valley and the towering cliff niches where colossal stone Buddhas once stood.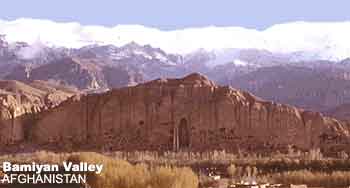 Welcome to Shahr-i-Gholghola or the City of Screams, site of the 13th Century massacre of the city's 150,000 population by Mongol conqueror Genghis Khan to avenge the murder of a favourite grandson.
Today the ruins, along with other historical sites in scenic Bamiyan, Afghanistan's cultural heart, may just provide a lifeline for this impoverished province.
Officials and residents want to have tourists back, just like in the 1960s and 1970s when Afghanistan was part of the "Hippy Trail" that ran from Europe to Kathmandu.
"We want to build hotels and a museum so we can safeguard all the artefacts here in Afghanistan and visitors can admire and understand our country's history," said Sayed Newaz Razai, the official overseeing the province's historical sites.
The city of Bamiyan is rich with history dating back to the 3rd Century when the first Buddhist monks travelled from India.
Its centrepiece was two giant Buddhas carved out of pink sandstone cliffs by devotees in the third or fourth centuries.
The statues awed travellers across central Asia for hundreds of years, until the Taliban's Islamist fighters destroyed them in 2001, defying international pleas to respect one of the world's great historical sites.
ROOF OF BAMIYAN
That callous act further crushed the spirits of residents, already terrorised by the Taliban's oppressive policies.
Four years later, Afghan businessman Sheer Hussain, 50, is anything but crushed.
Armed with $50,000, he turned a former governor's house into a 16-room hotel, one of three in the city.
Aptly named "Roof of Bamiyan", the hotel served as a base for American Special Forces in 2001, and has some of the best views of the valley with the majestic Hindu Kush mountain range in the background.
"Tourists love this place ... most people come because of Buddhism, they come here to meditate,," said the gregarious Hussain with a thick American accent.
For anyone who makes the punishing 7-hour drive on impossibly bumpy roads through deep gorges and valleys, it's worth it.
Picturesque villages along river banks shaded by cherry blossoms and willow trees line the route, or nestle high on mountainsides along with the ruins of Buddhist stupas.
Farmers with their donkeys regularly walk past the empty niches of the twin Buddhas, while visitors stand quietly at the foot of the giant structure, gazing at the empty holes in front.
Many visitors to Bamiyan are aid workers taking part in Afghanistan's reconstruction, but Hussain says a growing number of tourists are coming in.
"After 30 to 35 years, I saw a Czech tourist who stayed here for three days," Hussain laughs, adding that he was building a second hotel this year to accommodate more guests.
NO MORE GUNS
Another attraction, one fairly unique in Afghanistan, is the absence of overbearing security.
There are no armed guards on Hussain's property.
"There's no one here who carries guns, only the soldiers," he said, adding that unlike some Afghans, he had never owned a gun.
But a huge task lies ahead to ensure that Bamiyan is ready for tourists.
For one thing, there is still no electricity in the city.
The hum of generators in a nearby bazaar is the only noise that can be heard from the City of Screams.
Then there are landmines left over from the Soviet occupation in the 1980s.
Newly appointed Governor Habiba Sorabi, the country's first ever female governor, said the administration was working on a master plan to map out Bamiyan's tourism future.
"It is not too difficult because the international community is interested and there is a lot of potential," Sorabi said.
Like much of Afghanistan, poverty remains the big problem.
But there is optimism, even among poor people like Abdullah who earns less than $10 a month as a porter in the market, but harbours ambitions to be a tour guide.
"It's peaceful here right now and I know the future will be too. We are now safe," said Abdullah, whose home for the last 30 years has been a cave overlooking the City of Screams.