Confluence of CULTURES
Story and photos by YVONNE BOHWONGPRASERT, Bangkok Post, April 22, 2005
Gandhara and Buddhism share common heritage
Gandhara, Pakistan -- One doesn't have to be a follower of Lord Buddha to marvel at the cultural heritage, ancient ruins and trails of Gandhara. Like many other Thais, I was totally ignorant of this part of Pakistan and its history until I travelled there recently and discovered its strong links with Buddhism and why the people there, even though they are Muslim, guard this national treasure with such passion.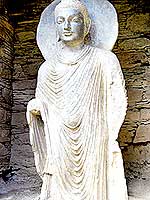 << This standing Buddha statue greets visitors in the courtyard of Takht Bhai monastery.
Pakistan is a melting pot of cultures and civilisations. And Gandhara, a northwestern province on the border with Afghanistan, is one of the most intriguing of them all. Walking through this former cradle of Buddhist faith, I felt a strong urge to protect whatever is still left of this once flourishing kingdom.
Gandhara means the "land of fragrance and beauty" and it's home to World Heritage sites such as Taxila, Takht Bhai and Swat which we visited.
Our chief guide on this trip was none other than the renowned scholar of Gandhara civilisation, retired Prof Fidaullah Sehrai. He has written numerous books on the subject. A former director of Peshawar Museum and chairman of the Department of Archaeology & Fine Arts at Peshawar University, he was full of admiration for Lord Buddha and his teachings.
"I became interested in Buddha's life at a young age," he recalled. "It's a passion, and I am happy to speak on what I have learned through these years about the Buddhist remains in Pakistan, especially Gandhara.
"I am often invited to give lectures on the subject in Buddhist nations such as Sri Lanka. In fact, some people have often mistaken me for a Buddhist. Actually, it's not only outsiders, my own wife used to often ask me why I had so many books on Buddha in my library. She was afraid I was going to convert to Buddhism," he said laughing.
That was how our professor-guide introduced himself before we set out for the city of Taxila that predates Alexander the Great who invaded India in 326 BC. On the way we stopped at the Julian monastery and the former Greek enclave of Sirkap.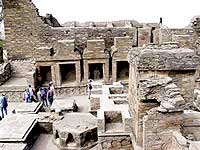 One can spend hours exploring these >>
Buddhist ruins relics.
This horse is trained to gyrate to Punjabi music. Walking up the Takht Bhai monastery is a pleasant experience as the place is surrounded by breathtaking mountains.

The 300-foot tall monastery sits atop a hill. Since it was spring time in Pakistan the air was still cool and refreshing and we enjoyed the climb to the top. Prof Sehrai explained that the stupa courts are set at different levels with chapels around it. Walking around, one could only marvel at the way the architect came out with the building plan. On closer observation, visitors will find that the monastery has cells for the monks on four sides, a verandah in front, assembly hall and store rooms. You can imagine the kind of life monks led those days.
Five minutes drive from there were the ruins of Sirkap. Here Bactrian Greeks founded the second fortified city of Taxila in the 2nd century. Excavations have revealed a thick fortification wall and relics of spectacular buildings of secular and religious significance. After viewing the ruins, we drove to Taxila Museum that houses numerous Buddhist statutes and stupas, silver jewellery, writing materials, domestic articles and household vessels.
They are all well preserved. I asked the caretaker, Rafaquat Baig, how he felt looking after a piece of Buddhist history.
"I'm really happy to have the honour of looking after a part of our cultural heritage," he said. "We work in shifts to see that everything is well taken care of. My job is to see that the excavated areas are kept in good condition. Over 90 percent of the guards are Muslim. We are very keen to preserve these religious sites because they are part of Pakistan. Our biggest concern, however, is keeping away thieves," he added.
At the museum I bumped into a student of fine arts, Ifra Mahmood, 17, a second-year student at F.G Post Graduate College. A frequent visitor there, she said relics kept in the museum are the valued possessions of all Pakistanis.
As a student she is often assigned to draw Buddha statues and stupas. She finds the experience exciting as well as inspiring and hoped that more Thais will come and visit Gandhara in the future.
Another place of great Buddhist significance is Takht Bhai. Excitement filled the air as we set out the next morning for what Prof.Sehrai described as "the focus of so many excavations" that it has been attracting visitors all year round.
Takht Bhai is four hours ride north of Islamabad. Along the way I enjoyed watching local people going about their daily chores and the scenery from the comfort of my bus. For tourists, Pakistan offers a vast landscape of amazing richness and variety. Each town and city has its own brand of lifestyle and a window to the past.
We stopped briefly at Kamra, a delightful town full of tea stalls and restaurants, and then rode on enjoying the unspoilt natural beauty, the view of isolated valleys and great mountain ranges.
We arrived at Takht Bhai monastery in Mardan district and saw excavation work in progress. Prof Sehrai said the monastery was one of the most recognised Buddhist monuments in Takht Bhai. Built on a rocky ridge, it stands 500 feet above the ground and can be reached by a steep winding path.
The monastery is a case of architectural diversity. A standing Buddha statue welcomes guests in its huge courtyard. There is plenty to explore and I particularly found the worship hall and meditation rooms interesting.
Prof Sehrai said the history of Takht Bhai monastery is shrouded in mystery because Chinese pilgrims _ Fa-hien, Song-yun and Hiuen Tsang _ have not made a mention of it in their writings. He noted that either the site was abandoned before they arrived or they just had no knowledge of its existence.
Some historians, said the professor, hold the view that the Huns from Central Asia ransacked it. After all, their king, Mihiragula, is credited for the destruction of 1600 stupas and monasteries and the slaying of two thirds of Gandhara's inhabitants.
We would have wanted to spend more time there and explore this enchanting piece of history, but the sun was setting and we had to rush to Swat, a mountainous district in North-West Frontier province, where we were booked for the night. Swat was also a bastion of Buddhist culture in the old days.
Saidu Sharif is its capital and home to Swat Museum. Buddhism flourished in Swat and spread to other parts of Asia from here, explained Prof Sehrai, thanks to the effort of Indian Emperor Ashoka. Other points of interest are the Shangerdar Stupa and Ghaligai.
Swat's deep valleys and towering mountain peaks make for breathtaking scenery. Apart from the museum, visitors can also learn about local culture and traditions by driving through the market. One thing of note was that I didn't see any young women on the streets, only girls accompanying their aunts and grandmothers on shopping rounds.
I was told that in this part of Pakistan young women stay at home. They are not supposed to be seen in public. The other thing I noticed was that the people there were beautiful. They had light complexion, sharp features and prominent eyes.
The only drawback about Swat was the poor condition of roads which made travelling less comfortable. All in all, the trip was a memorable experience. Gandhara widened my perspective on Buddhism and shed new light on the history and culture of Pakistan.
More importantly, it helped erase from my mind the popular misconception that Muslims were not tolerant of other religions.

MORE INFO
PIA (Pakistan International Airlines) has direct early morning flights from Bangkok to Islamabad every Wednesday and Saturday. The return flights from Islamabad make a two-hour stopover in Hong Kong before flying to Bangkok.
Visa regulations: As Pakistan is opening up to tourists, visa is not difficult to obtain. It takes one to two days to process a tourist visa that is available in two categories: single entry costs 1,325baht and multiple entry (one year) 6,500baht. For further information call 02-253-0288 (89)ext.18