Following the Buddhist trail
by Yoginder Sikand, Deccan Herald, March 3, 2013
Bangalore, India -- I hadn't ever travelled in a large group in a package-tour sort of arrangement before - I love travelling by myself because then you can do the things you want to and take your time about it.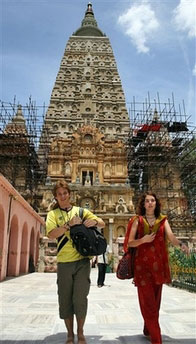 << Tourists at the Mahabodhi Temple, Bihar.
And so, when I found myself in a group of some 50 Buddhist pilgrims from south India in a train heading to do what's called 'the north Indian Buddhist circuit', I was somewhat intimidated. But it actually turned out to be fun, and certainly much less expensive than if I had visited all those places we covered in a fortnight alone.
We arrived late at night in Bhopal, and whatever little I saw of it as we headed out of the city was enough to convince me that I hadn't missed much by not visiting the sights that it boasts of — it seemed to be one massive garbage dump. It took a little more than an hour to reach Sanchi, where we were to spend that night at the pleasant Buddhist pilgrim guest house funded by the Sri Lankan government.
Land of 'stupas'
The sprawling ruins scattered atop a hillock and commanding an exquisite view of the surrounding countryside, testify to the importance that Sanchi once enjoyed when Buddhism flourished almost all across in India.
The enormous onion-shaped Sanchi Stupa that we've all read about in school is an architectural marvel, with its ornately-carved gateways, and surrounded by several smaller stupas, the ruins of numerous monasteries and a temple containing the remains of two of the Buddha's closest disciples, Sariputta and Mogallana.
The local museum is a veritable treasure-trove of Buddhist statues and other artefacts.
From Sanchi, we headed northeast, to Gonda, in Uttar Pradesh. From there, we bundled into a bus and drove past desperately poor villages till we arrived at Shravasti. This is where the Buddha spent many rainy seasons, when he would then halt his peregrinations in the huge Jetavana grove that was gifted to the Buddhist Sangha by a rich banker, Anathapindika.
The grove is dotted with ruins of what must have once been massive structures — tanks, temples, prayer halls and monasteries — as well as spots that have a special association with the Buddha, such as a platform marking the place where the Buddha would sit and preach, and another indicating the room he stayed in.
From Shravasti, we travelled to Kapilvastu, in the Siddharthnagar district, a five-hour journey through one of the poorest parts of India. Suddhodana, Buddha's father, is said to have been the ruler of Kapilvastu, but today nothing even remotely resembling regal splendour remains. The only indication of the town's hallowed past is a huge stupa and the ruins of what our local guide claimed was Suddhodana's palace.
It took us two hours to reach Sanauli, located right on the Indo-Nepalese border, from where we crossed into Nepal to visit Lumbini. The Buddha was born here, the precise spot marked by a temple built over the ruins of a third century BC structure and a majestic stone pillar erected by Emperor Ashoka, a major supporter of Buddhism.
The temple is surrounded by a number of enormous new monasteries and prayer halls built recently by various Buddhist countries, each more ornate than the other. As I peeked into some of them, I shuddered to think of what the Buddha himself would have thought about that display of ostentatious worldly splendour — and that, too, all in his memory!
Kushinagar is a five-hour bus drive from Lumbini. Reaching the town, we halted at the Burmese temple for lunch and then went to the shrine built on the spot where the Buddha attained mahaparinirvana, leaving his mortal body.
It is a simple structure, as befits the Buddha's own life and message, and it contains a huge statue of the Buddha in repose, said to be over a 1,000 years old. Behind the shrine are stupas said to contain the Buddha's ashes, and the ruins of numerous monasteries.
That evening, we gathered at a shrine built on the spot where the Buddha's body was cremated, and an amazing woman — a south Indian Buddhist, possibly a recent convert — led us in a beautifully solemn prayer.
Inner peace
Our next destination was Sarnath, located on the outskirts of Benaras, whose towering stupa marks the spot where the Buddha gave his first sermon. There are numerous other Buddhist ruins here, as well as a temple containing the relics of the Buddha.
Bihar is home to numerous places with an ancient Buddhist association, and from Sarnath, we headed there to do a quick round of some of them. The sprawling ruins of the famed Nalanda University, once a major centre for Buddhist learning, stand as mute testimony to India's long-lost Buddhist tradition. Nearby Rajgir, nestled between low-lying hills, was where the Buddha spent much time teaching and meditating.
The high-point of our visit was, of course, Bodh Gaya, also in Bihar, with its enormous Mahabodhi Mahavihara, which marks the spot where the Buddha attained enlightenment. The town is miserably filthy, though, even the area around the temple. Despite the vast number of visitors, especially foreigners, that the town receives right through the year, who obviously bring in much foreign exchange, both the local authorities and the tourism department don't seem to think this an issue to bother about.
Thousands of pilgrims — almost all foreigners — pour into the temple throughout the day, and even at night, bowing before the Bodhi tree under which the Buddha attained nirvana, meditating in the forest of little stupas that surrounds the temple, counting their beads, spinning their prayer-wheels or chanting in low, mellifluous tones.
Tibetan lamas in ochre robes, Burmese bhikkhus in mustard, Sri Lankan lay people in white, Chinese nuns in purple and the odd-Western Buddhist convert silently circumambulate the most important of all Buddhist shrines throughout the world, their faces lit with a soft peace that you can't help noticing.
And as you stand transfixed, gazing the massive sea of humanity converge on the spot where the Great Master finally attained ultimate wisdom and liberation, you can't help wonder, and lament over, how few Indian faces you see among them, for Buddhism is now almost extinct in the land of its birth.