Rich tapestry of Buddhist travels
by Chester Chin, The Star, October 4, 2014
A rich kaleidoscope of sights and sounds await both pilgrims and travellers who are interested in Buddhist lore, customs and philosophies.
Kuala Lumpur, Malaysia -- CHAN Kai Waey's brush with Buddhist teachings happened during her first year at a local university. After hearing tales from her seniors about pilgrimage tours, she was inspired to embark on her own journey.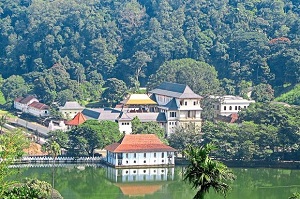 << Sacred place: The Temple of the Tooth in Kandy is one of the most holy sites in Sri Lanka reputed to contain an actual tooth of the Buddha. - Photos from Wikimedia Commons
That dream materialised late last year when the account executive went on a backpacking trip with a friend to some Buddhist destinations in India.
"We went to places such as Bodhgaya, Nalanda and Sarnath. The visit to Bodhgaya was quite fun as we're allowed to collect fallen leaves from the Bodhi trees. Most visitors to the place are keen to perform this activity as the Bodhi tree represents wisdom in Buddhism," says Chan.
She adds that she experienced a moment of pure serenity when she visited Bodhgaya.
"As a Buddhist, I believe that the place is filled with a holy aura and I am glad that I got a chance to experience the peaceful environment," she says.
Tour manager Chong Voon Siong says the favourite destinations for Buddhist travel are India and a part of Nepal.
"The important destinations are Bodhgaya, Sarnath, Kushinagar (in India) and Lumbini in Nepal," he says. The four pilgrimage sites are also mentioned by Buddha in the Mahaparibbana Sutta scripture which details the end of Buddha's life.
"Bodhgaya is the place where Buddha gained enlightenment and Sarnath was where he preached his first sermon. Lumbini in Nepal is the birthplace of Buddha and Kushinagar was where he passed away and entered Nirvana," explains Chong.
He operates Ameriasa Tours & Travel in Kuala Lumpur that organises 10-day trips to Buddhist places of interest such as the aforementioned pilgrimage sites, as well as Nalanda and Vaishali.
Located south-east of the Patna capital, Nalanda was an ancient centre of higher learning. During its glory days, the university attracted scholars from Tibet, China, Greece and Persia.
"Vaishali was the centre of the Buddhist council congregation. The Buddha visited the place several times, spending his fifth and last vassas there. Emperor Ashoka erected the Pillars of Ashoka to commemorate the spot of the last sermon," says Chong.
Vassa, also referred to as Rains Retreat or the Buddhist Lent, is a three-month annual retreat observed during the rainy season.
According to Chong, the best time to visit the four main pilgrimage sites are between October and March when the weather is fair and relatively cold. He also adds that there are certain rules and decorum that holidaygoers have to observe when visiting the four places.
"The dos and don'ts of the tour follow the Five Precepts of Buddhism, which are no lying, no killing, no stealing, no alcohol and no sexual misconduct. We usually provide a briefing before visiting the pilgrimage places," says Chong.
He adds that since the tours organised are usually on a pilgrimage basis, activities such as shopping are omitted from the itinerary. However, Chan says, tourists can purchase souvenirs from the vendors at the sites.
Chong notes that Buddhist tourism also has plenty of sightseeing and travel options that doesn't necessarily involve pilgrimage. He says Sri Lanka, Tibet, Japan and Cambodia are among the popular Buddhist destinations.
"Cambodia is famous for Angkor Wat, but there's also Angkor Thom which is dedicated to Buddhism," says Chong.
The last capital of the Khmer Empire was a fortified city where the priests, palace officials and soldiers lived. Today, visitors can find the Bayon, a mysterious and richly decorated temple, at Angkor Thom.
According to the Buddhist Tourism website (www.buddhist-tourism.com), the important destinations in Sri Lanka are Anuradhapura, Polonnaruwa, Kandy and Dambulla.
The rock caves of Dambulla – a Unesco World Heritage Site – is famous for its huge images of standing, reclining and sitting Buddhas. As for Kandy, travellers can visit the Temple of the Tooth which is renowned for containing the sacred tooth relic of the Buddha.
Cassandra Teo, who visited Myanmar with her family, said that the sight of the stupas and temples at Bagan is breathtaking. During her trip, she also learned that all religions seem to be linked.
"It's a good way to learn more about your religion in a different culture or to learn about a new religion," says Teo, a Catholic.
Vajira Khaw is an avid traveller to Buddhist sites. Apart from the holy places in India, she has also been to Myanmar, Sri Lanka, Cambodia, Laos, Thailand and Borobudur in Indonesia.
She speaks fondly of her travels to Sri Lanka – where she saw the oldest Bodhi tree in the world – and Myanmar, where the Golden Rock is found.
"Visiting the awesome Golden Rock which is perched on a rock platform lends meaning to the phrase, 'Seeing is believing'," she enthuses.
The boulder, painted gold by Buddhist devotees, is perched precariously on the edge of a cliff in Mon State. It has been a popular pilgrimage site for centuries.
"To be able to visit the places associated with Lord Buddha has aroused greater confidence in me towards the Buddha and the dhamma (Buddha's teachings)," says Khaw, a former Geography teacher who did a diploma course in Buddhism.
"I would recommend Buddhist tourism not only to Buddhists but everyone. So many countries in Asia (where most Buddhist sites are located) have so much to offer in terms of historical places. And with cheaper airfares from budget airlines, why not?" says Khaw.