A journey across the amazing Buddhist circuit of eastern India
by Pallavi Pasricha, India Today, February 28, 2016
New Delhi, India -- In tiny Buddhist pilgrim towns tucked away in eastern India, you can experience moments of tranquillity and peace, even as you witness the frenzy of devotion.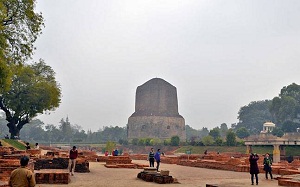 << The Dhamek Stupa. Picture courtesy: India Today Archive
My last train journey was an overnight run from to Delhi to Kathgodam two years ago. And here I am at the little-known Safdarjung station in New Delhi, boarding the Mahaparinirvan Express, which is going to be my home for the next seven nights and eight days.
Not only is this going to be a long haul, it is also a journey of a different kind. This train is taking me to the Buddhist heartland of India, winding its way through the most significant spots in Buddha's life that lie scattered in Bihar, Orissa and Uttar Pradesh.
In short, I am doing a pilgrim's circuit. Not being too spiritually inclined, I am not sure what I am in for. But an aunt of mine, who has taken to Buddhism in a big way, tells me that I will get certain answers in this trip. I am not convinced but I am curious.
The dense winter fog does not help my spiritual encounter, delaying the train by many hours. The idea is to spend the night crossing the countryside and the day exploring the sites, but we arrive at our first stop-Bodh Gaya-six hours late, after nearly a full day cooped up in the train. This is perhaps the most important stop on the Buddhist circuit, being the place where Buddha gained Enlightenment some 2,500 years ago.
We scramble to make it to the impressive Great Buddha statue, a 25m-high red sandstone statue unveiled in 1989, and to the famous Mahabodhi Temple, where stands the Bodhi Tree under which he learnt the Eternal Truth. It is sunset by the time we reach and I see the temple bathed in an orange glow. Our time here is brief, but I have my moment of clarity. The tree under which Buddha meditated is surrounded by people from all walks of life-dozens of monks clad in maroon robes and other pilgrims, some from countries like Thailand and Japan. As they chant, we the 100-odd passengers of the Mahaparinirvan Express, join them. It is a moment that appears to unite everyone as all differences melt amid a message of peace and harmony. And I am better able to comprehend what devotion and reverence mean as I watch a father teach his young son how to pay obeisance to Buddha.
Back in the train, the beds are made and we get our dinner. To be honest I had been expecting this to be a luxury train-akin to the Palace on Wheels or Maharaja Express, but it is your regular IRCTC train. The saving grace is that I have a berth in the first AC and I get along famously with my co-passengers.
Our next halt are the Buddhist sites in Orissa-Lalitgiri, Udayagiri and Ratnagiri-known as the diamond triangle of Orissa. This is the first time this leg has been introduced in the journey. We get off at a small station, Haridaspur, to make our way to these places. I am taken aback by the grand welcome that we got here from the locals. It seems as if the entire village has turned out at the tiny platform bedecked in bright clothes. A tikka, marigold garlands and a shower of petals makes us all feel like celebrities as we make our way to explore these places. At all three sites the remains of numerous Buddhist monasteries, shrines, and stupas make me reflect once again on the massive legacy of this religion, which was born in India, but went on to become deeply entrenched in East and South East Asia. In fact, some of the passengers aboard the train are pilgrims from countries like Thailand.
I am really looking forward to the next major stops on the Buddhist trail-Nalanda, Rajgir and Sarnath. We pass through lush green fields and villages where time appears to have stood still as we wind our way to Nalanda in a bus. As smiling children wave at us, I am reassured that the simple joys of life still exist.
As usual we are behind schedule and reach Nalanda after it is closed and have to plead with the management to let us in. Sadly, we get barely 15 minutes at the site of this famous university. I gaze at the massive red brick ruins spread out before me, and imagine what a magnificent centre of debate and discussion this must once have been with scholars from distant countries like China and Japan inhabiting what was once a huge complex of dormitories, libraries and monasteries. I wish I wasn't rushed and had more time to soak in the atmosphere.
Some of that regret vanishes as we get out and have piping hot chai in kulhars from a vendor just opposite Nalanda. The entire street is lined with stalls selling souvenirs, devotional CDs, colourful bags and small Buddha statues among other things.
Unfortunately since the train is late, we miss visiting Rajgir, an important Buddhist site. But there is a silver lining. We make it to our next stop, Sarnath, on schedule, giving me ample time to explore it at my own pace. The fog has lifted and so has my mood. The massive Dhamek stupa, built by Emperor Ashoka, is spectacular. I spend some time wandering around the deer garden, where Buddha preached his first sermon. There are beautiful lotus pools and a Bodhi tree, apparently grown from a sapling of the tree from where he gained enlightenment, and my mind wanders back to the words Buddha must have uttered.
The next stop: Varanasi. We have left behind the centres of Buddha and arrived at one of Hinduism's holy spots. As I stand at the city's famous ghats, I am imbued with the same tranquillity which I felt at the other places. Here, I bid farewell to my co passengers, who are now headed to Lumbini in Nepal, where Buddha was born and then onto see the Taj Mahal at Agra.
As I head back to Delhi, I reflect on my first spiritual encounter. It has been a mixed bag-I am not sure I have emerged more enlightened but I have understood that an occasional brush with the great religions of the world can give you much-needed moments of peace and calm- something difficult to find in the mad rush of the big cities. Maybe I do have some answers which my aunt was convinced I would find.
Highlights of the trip
Rajgir: Yet another destination that cannot be skipped on the Buddhist trail. Buddha spent several years here and delivered many sermons. The important sites here are Vishwa Shanti Stupa, where you can reach only via the cable car, Venuvana and Karanda Tank.
Dhouli Hills: Just a short drive from Bhubaneswar, lie the Dhauli Hills, believed to the site of the bloody Kalinga war, which prompted Emperor Ashoka to renounce his quest for power and embrace Buddhism. At the foot of the hill, there are several ancient rock edicts, but the most visited site here is the Vishwa Shanti Stupa or Peace Pagoda-a gleaming white structure with a massive dome built on top of the hill in 1972 with Japanese collaboration.
Lumbini: In Nepal, this is where Buddha was born and hence it is an important site in the journey. He lived here till the age of 29. There is an Ashokan pillar at the place where he was born. The train stops at Gorakhpur from where you take a bus and reach the place.