Andhra Pradesh: On Buddhist trails
by YVONNE BOHWONGPRASERT, Bangkok Post, July 14, 2005
Andhra Pradesh, India -- A bastion of Buddhism, Andhra Pradesh, known as the ``Rice Granary of India'', offers a plethora of magnificent ancient remains of viharan and stupas that should encourage Thais to make a pilgrimage there.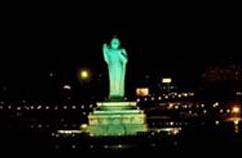 << The 17-metre, 350- ton statue of Lord Buddha standing in the middle of Hussain Sagar lake
According to Dr J.Getta Reddy, the minister for tourism who was in Bangkok conducting a roadashow, there are at least 150 Buddhist sites in Andhra Pradesh, 50 of them major ones. Dr Reddy said that Thailand and India should work closely to promote the Buddhist trail and discover what she called the ``Hyderabad Experience''. Hyderabad is the capital of the central Indian state of Andhra Pradesh.
"In fact, I would like to invite tourism ministers from Buddhist nations to hold a meeting in Hyderabad, so they can see first hand the rich Buddhist heritage there. I hope we can also have joint cultural exchange shows with Buddhist themes in the near future,'' said Dr Reddy.
One of the most popular sites is a 17-metre, 350- ton statue of Lord Buddha standing in the middle of Hussain Sagar lake in Hyderabad. Andhra Pradesh also houses Anupu, a perfect reconstruction of a Buddhist excavation. This is an outstanding archeological reconstruction from a third century Buddhist amphitheatre that has a seating capacity for 1,000 people. It boasts of the most amazing acoustics that are truly remarkable considering the time and age when it was built.
This is a must-see for visitors interested in history, culture and architecture. Anupu is located near the enormous Nagarjuna Sagar dam, about 150 kilometres from Hyderabad. The dam takes its name from a Buddhist saint and scholar, Acharya Nagarjuna, who is said to have set up a centre of learning there.
Another attraction is a recently discovered Buddhist site, Nelakondapalle, in Khammam District. The excavations brought to light a number of huge Buddha images and ancient pottery. Another outstanding feature on the Buddhist trail is the serene surroundings of Guntupalli. Considered the most beautiful of the Buddhist sites in south India, Guntupalli holds exotic rock shrines, stupas and viharn. Set on a hillock, the place is surrounded by natural beauty reminiscent of the Lomasarishi and Sudhama caves near Buddha Gaya.
At the roadshow, Indian tour operators and hotels were offering attractive packages for the ``Hyderabad Experience''.
Raman Balaji of Unic Tours & Travels put forth a week-long package inclusive of full-day tours of Hyderabad and major Buddhist sites, while the state's tourism body put together a set of packages offering three to five-star accommodation.
For the FIT (Fully Independent Traveller) segment, a two nights/three days package per person on twin-sharing basis at the three-star Aditya Park Inn cost US$115, inclusive of breakfast. For the same number of days at the high-end Taj Residency/Taj Banjara the price was US$140.
For group tours, the four-star Fortune Katriya included meals in its offer and priced it at US$110 per person, while properties under the Taj Group were a tad higher, US$150.
Mr Sanjay Sood of the Taj Banjara, Hyderabad, offered tour packages from Thailand priced at US$140 per person on twin-sharing basis, with an extra night going for US$45 per person. The package includes two-night accommodation in a standard room, breakfast; round-trip airport-hotel transfer; four-hour city tour and more.