Monastic attraction
by YEANG SOO CHING, The New Straits Times, July 24, 2005
Hundreds of thousands of people visit Jenjarom every year, writes YEANG SOO CHING, to tour the picturesque Dong Zeng Buddhist Monastery and Institute.
Jenjarom, Selangor (Malaysia) -- Any Jenjarom resident will tell you the main attraction of the town is the Dong Zen Buddhist Monastery and Institute in Sungai Jarom.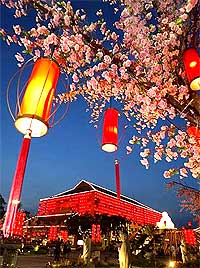 While the Chinese community is happy to have this beautiful institute in their midst, the non-Chinese are equally glad that it has brought tourism to their sleepy town.
Since it was set up in 1994, thousands of people from near and far have visited Dong Zen. Last year alone, its registry showed 230,000 visitors. And during the first 15 days of Chinese New Year this year, there were some 600,000 visitors.
?On the first day of Chinese New Year, I counted more than 100 tour buses pulling up here. The roads were all congested! Dong Zen has really become our pull factor in tourism,? says an incense shopkeeper, whose shop fronts the institute.
Jenjarom, which is about 100km west of Kuala Lumpur, is situated in Kuala Langat district. It takes about an hour to reach.
Built on a 16-acre, immaculately landscaped site, Dong Zen was set up by the Fo Guang Shan (FGS) Buddhist Monastic Order, which has its headquarters in Kaoshiung, Taiwan.
Dong means East, and Zen means ?a tranquil mind?, so Dong Zen means ?a tranquil mind in the East?. Besides being a monastery, Dong Zen is also a cultural and educational centre. It houses a Buddhist college, one of 16 in the world set up by FGS. Here, students learn the fundamentals of the Dharma (Buddha?s teachings) for a year, after which they can opt to further their Dharma studies in colleges in Taiwan or Hong Kong. Dong Zen, which is managed by FGS Malaysia, also holds seminars and retreats.
It is no wonder that the institute?s fame has spread through word of mouth. Its setting is serene and picturesque; the structures ? both of buildings and monuments ? are magnificent. The building cost ran into millions of ringgit, all borne by faithful benefactors.
The beautiful structures comprise the main gate, the monumental archway, the main shrine, the Bodhisattva Guan Yin statue and the 18 Arhats (saints or sages who have attained enlightenment). Within its grounds, the Lumbini Garden where Prince Siddharta (Buddha) was born, has been reconstructed. There is also a Lapis Lazuli transparent tower, built in homage to the Medicine Buddha. In the main shrine sits a 5.4 metre (18 ft) tall statue of Buddha sculptured in bronze. Copper tooling depicting the Buddha?s life, line the walls. Dong Zen also offers two teahouses and an art gallery which currently showcases photographs shot in India.
Visitors come to Dong Zen not just for prayer and meditation; they come also for tai qi practice, and to jog.
Reverend Man Dao, a Malaysian based at Dong Zen, says: ?Youth between the ages of 18 and 35, and who have at least a Form Five education, are accepted for Dharma studies. We screen them to make sure they?re ready to stay at least one semester, which is six months. Then they get a break, and decide whether they want to continue the next semester and further studies thereafter. Board and lodging are free, but if they want to continue in Taiwan or Hong Kong, they have to pay their own passage. However, we do give scholarships to deserving students.?
Once committed, the students lead a disciplined monastic lifestyle, waking up at 5.30am to get ready for chanting at 6am, followed by a host of activities.
Whether they?re meditating, attending classes or helping out with domestic chores, the students learn the meaning of discipline. The flexibility of the course is that the students are free to revert to their previous lifestyle if they don?t want to be ordained.
?Generally, about 40 per cent will be ordained. Since we initiated classes for Dharma studies in 1994, more than 200 of our students have been ordained. But we don?t force anyone. It has to be a ?calling? that the students have to feel,? says Man Dao.
In the courtyard, a giant bronze bell hangs from the ceiling. Twice a day, at 5.30am and 9.45pm, this bell, together with an equally giant wooden drum hanging at the opposite end, are struck, alternately. Each time, the bell and drum are struck 108 times.
?This is to help the students and monastics keep good time. Also, the sound of the bell and drum bring relief to beings suffering in hell,? Man Dao explains.
The visit to Dong Zen changed my mind about eating bak kut teh, for which Jenjarom is famed. I opted for vegetarian food instead. Unfortunately, the one opposite Dong Zen on the main road was closed.