Pilgrimage to Sri Lanka
Story and photos by PEERAWAT JARIYASOMBAT, Bangkok Post, Sept 29, 2005
Buddhists pack temples on full moon of the eighth lunar month
Colombo, Sri Lanka -- It was a hot day. I saw a bunch of flowers tied to the front bumper of a passing open-top van packed with people of all ages, who despite the simmering heat seemed to be enjoying the ride.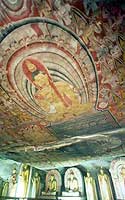 << The Maharaja Vihara in Dambulla.
"Pilgrims," my guide Roy de Livera said. "When people go on pilgrimage, they decorate the front bumpers with flowers. It's a sign for other cars make way for them."
I saw more cars, all heading in the same direction, and decided to join them.
I was in Sri Lanka on one of the holiest days in the Buddhist calendar, the full moon of the eighth lunar month or Asarahah Bucha Day, when people visit temples and other sacred monuments that date back to the time Buddhism took root in the country _ some 2000 years ago.
All roads that day seemed to be leading to Sigiriya, a major archaeological site, in central Sri Lanka. Also called the Lion Rock, it's an ancient castle built in the 5th century that sits on a huge rock rising 182 metres above surrounding gardens, water pools and tropical jungle. Its striking architecture and exotic location makes it one of Sri Lanka's top tourist attractions.
We arrived there and saw thousands of pilgrims packing the compound. They stood in long lines to witness Sigiriya's famous frescoes on rock faces. A spiral staircase led to the paintings. I joined the crowd and slowly inched my way to the top.
The Milk Pagoda, all in Polonaruva >>
There I saw paintings of ancient maidens in charming poses. They had tiny waists with round bellies, fascinating visitors with their demure glances from smouldering eyes. Only 18 of the some 500 frescoes, painted over a 140-metre-long stretch, survive today. I had to admit the women in the paintings were absolutely charming.
Next, I joined another line, a longer one, to climb up the steep steps to the summit, an expansive 1.6-hectare area that boasted of a palace surrounded by water gardens and a big pool that were put together some 1,500 years ago.
From that vantage point the palace's original occupants must have probably felt as if they were in heaven from where they could look down on people on earth, I thought.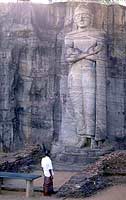 << Stone Buddha image at Galvihara
On the return leg from the summit the line was even longer. The sea of humanity was overwhelming. I was both impressed and awed by the sense of respect and devotion the people of Sri Lanka reserved for Buddhism. I had to stand an hour in the sun to cover a distance that would normally take just five minutes.
My next destination was Dambulla, a complex of five caves dating back to the third century that has been the abode of monks throughout its long history. Every square inch of space inside the caves contains paintings and sculptures of Lord Buddha and key episodes from his life.
The paintings, spread over a 1,000-square-metre area, make Dambulla one of the largest cave complexes in South and Southeast Asia.
Stepping inside, the atmosphere was serene and quiet with a statue of the Reclining Buddha lending the place an aura of solemnity. Murals painted over the last 2,000 or so years graced the walls, depicting the life of Lord Buddha and other gods and goddesses, religious rites and historical milestones.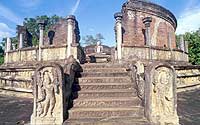 Vatadage or the Circular Stupa House >>
The entire cave complex received a major restoration in the 18th century and since then it's become Dambulla's most admired heritage to the world.
While Dambulla was impressive, more domineering _ because of its size _ was Polonaruva where Buddhism first took root in Sri Lanka and subsequently became the religious hub of the country.
Polonaruva, capital of Sri Lanka during 11th-13th century covers an area of 122 hectares spreading five kilometres north-south and three kilometres east-west.
Its streets are laid out along a rectangular grid graced by elaborate buildings, palaces (of kings Parakramabahu and Nissankamalla), monasteries, pagodas, hospitals, irrigation ponds and canals that are a testament to the grandeur and complexity of urban planning in 5th century Sri Lanka.
I also witnessed a large number of cells around town that used to be the abode of monks.
"At the height of its glory an estimated 20,000 monks lived in Polonaruva," my guide said. "They roamed the town barefoot." However, I didn't see a single monk there that day.
Its other attraction is Vatadage or the Circular Stupa House, an architectural marvel, built in the 12th century that hosts a vast collection of Buddha images, the dagaba its most revered possession.
Another striking feature of Polonaruva are the colossal statues of Lord Buddha at Galvihara in sitting, upright and reclining postures, and a cavern cut into a giant rock.
And the craftsmanship is so exquisite that even though they are carved from rocks, the images look as if they have life.
Next we moved to the historical town of Kandy, popular among pilgrims for the Sacred Tooth Relic of Lord Buddha that was brought to the country in the third century.
It's regarded as the guardian relic of Kandy, the seat of former Sinhala kings.
Lotus in hand, pilgrims of all ages walked bare feet into the temple.
Although it was not a public holiday, the temple was crowded with faithfuls. Entering the main chapel, I was overtaken by the solemn atmosphere.
The murmur of voices echoed in the hall. Pilgrims bent down and touched the temple floor with their forehead in a mark of respect to the Sacred Tooth before saying their prayers.
At the end of it they got up looking more relaxed, some even supporting a smile on their faces.
They seemed to have been reinforced by a kind of inner strength that bought peace and calmed their souls. And with that ended my pilgrimage to Sri Lanka.
More Info
Thai tourists don't require visa to enter Sri Lanka. The Sri Lankan currency is the rupee. One hundred rupees is equal to one US dollar.
Sri Lankan Airlines operates regular flights between Bangkok and Colombo. For flight schedule, visit www.srilankan.lk. The airline's office is at Charn Isssara Tower on Rama IV Road, Bangkok; tel: 02-236-4981-2.
For a foreigner, driving on Sri Lankan roads can cause all sorts of problems. It's advisable to rent a car and driver. Abans Tours (www.abansgroup.com) offers such service.
Deer Park Hotel in Giritale is a nice choice of accommodation. The hotel is within one or two hours drive to Polonaruwa and Sigiriya. For more information, visit www.coloursofangsana.com.
Other helpful web sites: www.travelsrilanka.com, www.srilankatourism.org, and www.infolanka.com.